Cortez Legacy - Sterling Silver Ring
---
Estimated delivery date, from Sun, 01 Oct 2023
Low stock - 2 items left

Inventory on the way
| | |
| --- | --- |
| Couleurs | Money |
| Metal | Antique 925 silver |
| Origine | France |
This Sterling Silver ring reminds us of Cortez and his discovery of America and the aztec art culture.
Sterling Silver skull band ring with antique finish.
Custom Size -
 You can order a custom size for this ring. 
Print our size chart
 and tell us what your size is on the comments section when you place your order. Please allow a 3-4 weeks delay before delivery.
1 YEAR GUARANTEE
Cortez Legacy - Sterling Silver Ring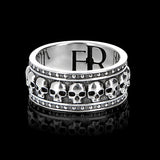 Avis à propos du produit
Voir l'attestation
Stephane D.

Publié le 12/02/2023 à 10:37.

(Date de commande : 30/01/2023)

Très belle bague...(Il faudrait juste ajouter une photo portée pour avoir une idée de la la largeur)

5

Acheteur vérifié .

Publié le 03/10/2021 à 00:03.

(Date de commande : 25/09/2021)

Très belle bague, bien détaillée

5

Acheteur vérifié .

Publié le 07/07/2021 à 16:02.

(Date de commande : 08/06/2021)

5

Acheteur vérifié .

Publié le 03/02/2021 à 23:19.

(Date de commande : 13/01/2021)

5

Acheteur vérifié .

Publié le 10/11/2020 à 19:29.

(Date de commande : 01/11/2020)

5

Acheteur vérifié .

Publié le 14/06/2020 à 11:39.

(Date de commande : 05/06/2020)

Superbe produits, commandé pour faire l'alliance de mon conjoint, très bonne qualité

5

Acheteur vérifié .

Publié le 22/12/2019 à 00:35.

(Date de commande : 16/12/2019)

5

Acheteur vérifié .

Publié le 09/04/2018 à 14:00.

(Date de commande : 26/03/2018)

5

Acheteur vérifié .

Publié le 16/03/2018 à 07:01.

(Date de commande : 02/03/2018)

Produit de très bonnes facture

5

Acheteur vérifié .

Publié le 18/12/2017 à 14:10.

(Date de commande : 08/12/2017)

5

Acheteur vérifié .

Publié le 12/08/2017 à 15:33.

(Date de commande : 19/07/2017)

faire attention a la taille mais autrement super produit

5

Acheteur vérifié .

Publié le 18/06/2017 à 00:08.

(Date de commande : 07/06/2017)

5

Acheteur vérifié .

Publié le 08/06/2017 à 20:26.

(Date de commande : 27/05/2017)

Magnifique et comme sur la photo!!!!

5

Acheteur vérifié .

Publié le 08/06/2017 à 17:55.

(Date de commande : 20/05/2017)

5

Acheteur vérifié .

Publié le 20/02/2017 à 09:54.

(Date de commande : 14/02/2017)

5

Acheteur vérifié .

Publié le 01/02/2017 à 18:39.

(Date de commande : 25/01/2017)

5

Acheteur vérifié .

Publié le 15/01/2017 à 14:59.

(Date de commande : 11/01/2017)

Excellent comme d'habitude!!!

5

Acheteur vérifié .

Publié le 21/10/2016 à 19:03.

(Date de commande : 17/10/2016)

5

Acheteur vérifié .

Publié le 02/10/2016 à 13:57.

(Date de commande : 26/09/2016)

Article de très bonne qualité, très belle finition, article correspondant à mes attentes. très satisfait.

5

Acheteur vérifié .

Publié le 18/07/2016 à 01:21.

(Date de commande : 10/07/2016)

très satisfait de l'article, très bonne qualité, très belle finition

5

Acheteur vérifié .

Publié le 02/03/2016 à 13:13.

(Date de commande : 11/12/2015)

5

Acheteur vérifié .

Publié le 01/03/2016 à 21:29.

(Date de commande : 13/02/2016)

Superbe! Petit bémol: ça taille petit!

5

Acheteur vérifié .

Publié le 26/01/2016 à 13:29.

(Date de commande : 22/01/2016)

Très beau bracelet Petit doute sur la solidité à voir dans le temps

4

Acheteur vérifié .

Publié le 19/01/2016 à 13:08.

(Date de commande : 07/12/2015)

5

Acheteur vérifié .

Publié le 29/12/2015 à 09:32.

(Date de commande : 04/12/2015)

Bague magnifique, finement ciselée, je l ' ai offerte avec plaisir à mon ami qui, conquis par cette marque,s'est laissé tenter par d ' autres bijoux notamment un superbe bracelet . Je recommande les produits de ce créateur.

5