Abyssal blue Wrap - gemstones and Sterling Silver bracelet
---
Estimated delivery date, from Wed, 04 Oct 2023
In stock, ready to ship

Inventory on the way
| | |
| --- | --- |
| Couleurs | Blue |
| Diamètre des pierres | 8mm |
| Metal | 925 silver |
| Origine | France |
| Pierres | Onyx, Larvikite, Hematite, Obsidian, Hawk's Eye, Dumortierite, Hawkeye |
| pierres1 | ["Onyx","Larvikite","Hématite","Larvikite","Obsidienne","Larvikite","Hématite","Larvikite","Oeil de faucon","Larvikite","Hématite","Larvikite","Obsidienne","Larvikite","Hématite","Larvikite","Dumortierite","Larvikite","Hématite","Larvikite","Obsidienne","Larvikite","Hématite","Larvikite","Oeil de faucon","Larvikite","Hématite","Larvikite","Obsidienne","Larvikite","Hématite","Larvikite"] |
A minimalist and elegant handmade bracelet for a stylish look but always with personality! Double wrap with our designer Sterling Silver skull and balinese handcrafted beads.
Mate Onyx 08 mm
Hematite 08 mm
Dumortierite 08 mm
Falcon's eye 08 mm
Obsidian 08 mm
Larvikite 08 mm
Flibustier's ring Sterling Silver
Flibustier's skull Sterling Silver

EASY ON - Mounted on an elastic thread for an easy fit.

1 YEAR GUARANTEE
See our Cleaning and Care advices  
Abyssal blue Wrap - gemstones and Sterling Silver bracelet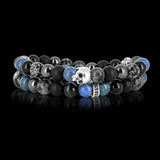 Avis à propos du produit
Voir l'attestation
Jeremy H.

Publié le 28/09/2023 à 09:20.

(Date de commande : 17/09/2023)

Produit de très bonne qualité et conforme

5

Olivier D.

Publié le 26/08/2023 à 17:03.

(Date de commande : 16/08/2023)

5

Sylvie M.

Publié le 29/12/2022 à 18:42.

(Date de commande : 18/12/2022)

Bijou de qualité, correspondant point par point à la description. La livraison en point relais m a rassurée et elle a été très rapide. J avais demandé un emballage cadeau, et pour un prix tout à fait décent il a fait son effet car très joli et de qualité.

5

Marion G.

Publié le 27/12/2022 à 14:55.

(Date de commande : 28/11/2022)

Exactement comme sur la photo Parfait

5

Marc M.

Publié le 25/12/2022 à 14:50.

(Date de commande : 15/12/2022)

5

Virginie V.

Publié le 12/11/2022 à 10:33.

(Date de commande : 29/10/2022)

5

Nicolas S.

Publié le 16/08/2022 à 17:06.

(Date de commande : 09/08/2022)

Vraiment joli et la taille est très bien

5

Sylvie M.

Publié le 11/07/2022 à 00:30.

(Date de commande : 05/07/2022)

Produit conforme et de bonne qualité

5

Nicolas D.

Publié le 10/07/2022 à 11:04.

(Date de commande : 04/07/2022)

Vraiment content je le trouve trop classe

5

Acheteur vérifié .

Publié le 10/12/2021 à 19:45.

(Date de commande : 24/11/2021)

Parfait, je suis vraiment content de mon achat

5

Acheteur vérifié .

Publié le 27/09/2021 à 13:42.

(Date de commande : 17/09/2021)

Très belle qualité, conforme au descriptif

5

Acheteur vérifié .

Publié le 14/04/2021 à 18:19.

(Date de commande : 03/04/2021)

Bracelet de belle qualité et service impeccable. Nous recommandons cette boutique.

5

Acheteur vérifié .

Publié le 03/03/2021 à 16:25.

(Date de commande : 24/02/2021)

5

Acheteur vérifié .

Publié le 22/02/2021 à 20:27.

(Date de commande : 12/02/2021)

5

Acheteur vérifié .

Publié le 15/12/2020 à 14:15.

(Date de commande : 07/12/2020)

Le bracelet est beaucoup trop grand.

Réponse du marchant

Bonjour, vous pouvez faire votre choix de taille en suivant notre guide de tailles. Si jamais le bracelet est trop grand vous pouvez l'échanger sans souci via votre interface client.

3

Acheteur vérifié .

Publié le 24/11/2020 à 07:15.

(Date de commande : 18/11/2020)

5

Acheteur vérifié .

Publié le 09/11/2020 à 23:21.

(Date de commande : 01/11/2020)

5

Acheteur vérifié .

Publié le 22/08/2020 à 15:59.

(Date de commande : 12/08/2020)

5

Acheteur vérifié .

Publié le 06/07/2020 à 09:43.

(Date de commande : 29/06/2020)

Très bonne qualité de produit, Très stylé

5

Acheteur vérifié .

Publié le 25/06/2020 à 18:41.

(Date de commande : 21/06/2020)

Super bracelet je recommande il fait vraiment beaucoup d'effet les teintes de gris et de bleu sont magnifiques

5

Acheteur vérifié .

Publié le 07/06/2020 à 10:08.

(Date de commande : 22/05/2020)

Le bracelet a beaucoup plu à mon mari, le petit mot que j'avais rédigé a été écrit sur une carte super sympa

5

Acheteur vérifié .

Publié le 29/05/2020 à 14:21.

(Date de commande : 17/05/2020)

Très beau comme d'habitude. La qualité avec.

5

Acheteur vérifié .

Publié le 18/05/2020 à 21:25.

(Date de commande : 14/05/2020)

Le bracelet est magnifique et conforme à mes attendes ! Je suis très satisfaite de ce premier achat et je retournerais sur le site pour acheter sans hésitation !

5

Acheteur vérifié .

Publié le 17/04/2020 à 18:09.

(Date de commande : 07/04/2020)

5

Acheteur vérifié .

Publié le 17/04/2020 à 01:39.

(Date de commande : 02/04/2020)

Absolument rien a redire Qualité vraiment incroyable !

5

Acheteur vérifié .

Publié le 17/03/2020 à 11:38.

(Date de commande : 06/02/2020)

5

Acheteur vérifié .

Publié le 17/02/2020 à 10:19.

(Date de commande : 06/02/2020)

4

Acheteur vérifié .

Publié le 31/01/2020 à 17:12.

(Date de commande : 23/01/2020)

Parfait conforme à mes attentes

5

Acheteur vérifié .

Publié le 17/12/2019 à 13:35.

(Date de commande : 11/12/2019)

5

Acheteur vérifié .

Publié le 16/09/2019 à 06:30.

(Date de commande : 07/09/2019)

Bracelet magnifique, conforme à la photo. Le cadeau que j'ai offert est à la hauteur de mes espérances.

5

Acheteur vérifié .

Publié le 28/08/2019 à 20:15.

(Date de commande : 05/08/2019)

5

Acheteur vérifié .

Publié le 11/08/2019 à 01:35.

(Date de commande : 03/08/2019)

Magnifique Je procède déjà 4 autre bracelet de chez eux

5

Acheteur vérifié .

Publié le 01/06/2019 à 23:45.

(Date de commande : 22/05/2019)

5

Acheteur vérifié .

Publié le 09/04/2019 à 10:30.

(Date de commande : 30/03/2019)

Superbe objet, belle qualité de pierre et d'argent.

5

Acheteur vérifié .

Publié le 16/03/2019 à 22:05.

(Date de commande : 08/03/2019)

Très joli! Je fais un tabac avec.

5

Acheteur vérifié .

Publié le 09/08/2018 à 22:22.

(Date de commande : 31/07/2018)

Bracelets de toutes beautés, avec une livraison et un emballage digne de ce nom !!! Rien à dire

5

Acheteur vérifié .

Publié le 18/06/2018 à 14:22.

(Date de commande : 11/06/2018)

5

Acheteur vérifié .

Publié le 29/05/2018 à 15:25.

(Date de commande : 22/05/2018)

5

Acheteur vérifié .

Publié le 14/05/2018 à 13:38.

(Date de commande : 16/04/2018)

5

Acheteur vérifié .

Publié le 30/04/2018 à 14:46.

(Date de commande : 25/04/2018)

5

Acheteur vérifié .

Publié le 08/04/2018 à 23:19.

(Date de commande : 30/03/2018)

Magnifique, tout simplement

5

Acheteur vérifié .

Publié le 15/03/2018 à 07:40.

(Date de commande : 01/03/2018)

5

Acheteur vérifié .

Publié le 24/02/2018 à 14:52.

(Date de commande : 15/02/2018)

5

Acheteur vérifié .

Publié le 08/02/2018 à 21:39.

(Date de commande : 27/01/2018)

5

Acheteur vérifié .

Publié le 26/01/2018 à 13:52.

(Date de commande : 14/01/2018)

5

Acheteur vérifié .

Publié le 23/01/2018 à 18:22.

(Date de commande : 13/01/2018)

Le bracelet donne un look inimitable et classe

5

Acheteur vérifié .

Publié le 02/01/2018 à 13:36.

(Date de commande : 17/12/2017)

5

Acheteur vérifié .

Publié le 29/12/2017 à 09:24.

(Date de commande : 15/12/2017)

Tres bien , le contenu etait comme sur les photos . Le produit a l'air de très bonne qualité .je recommande .

5

Acheteur vérifié .

Publié le 27/12/2017 à 17:33.

(Date de commande : 19/12/2017)

Conforme à mon attente pour ce bracelet offert à un proche qui a fait son effet ! La qualité est au rendez vous !

5

Acheteur vérifié .

Publié le 20/12/2017 à 12:29.

(Date de commande : 13/12/2017)

Très belle qualité de bijoux, vous pouvez commander les yeux fermés. Benjamin S, Alexia L

5

Acheteur vérifié .

Publié le 15/11/2017 à 14:07.

(Date de commande : 06/11/2017)

Produit conforme à la description, de très bonne qualité, très satisfaite

5

Acheteur vérifié .

Publié le 09/11/2017 à 22:27.

(Date de commande : 01/11/2017)

Taille très bien et le rendu est top!!

5

Acheteur vérifié .

Publié le 08/11/2017 à 19:51.

(Date de commande : 31/10/2017)

Livraison rapide et sérieuse avec signature ! Bracelet parfait ! Conforme à la photo. Les perles sont magnifiques !

5

Acheteur vérifié .

Publié le 27/10/2017 à 15:07.

(Date de commande : 17/09/2017)

Produit de qualité correspondant exactement à la description

5

Acheteur vérifié .

Publié le 27/10/2017 à 14:22.

(Date de commande : 15/09/2017)

5

Acheteur vérifié .

Publié le 27/10/2017 à 00:54.

(Date de commande : 25/09/2017)

Superbe bracelet et de très belle qualité.

5

Acheteur vérifié .

Publié le 03/09/2017 à 02:01.

(Date de commande : 09/08/2017)

Beau bracelet identique à celui de la photo que j ai commandé. Merci pour vos produits.

4

Acheteur vérifié .

Publié le 13/08/2017 à 13:43.

(Date de commande : 20/07/2017)

5

Acheteur vérifié .

Publié le 12/08/2017 à 19:05.

(Date de commande : 21/07/2017)

5

Acheteur vérifié .

Publié le 12/08/2017 à 14:53.

(Date de commande : 19/07/2017)

5

Acheteur vérifié .

Publié le 25/07/2017 à 15:09.

(Date de commande : 12/07/2017)

5

Acheteur vérifié .

Publié le 09/06/2017 à 09:32.

(Date de commande : 19/05/2017)

5

Acheteur vérifié .

Publié le 08/06/2017 à 15:59.

(Date de commande : 01/06/2017)

5

Acheteur vérifié .

Publié le 08/06/2017 à 15:45.

(Date de commande : 23/05/2017)

5

Acheteur vérifié .

Publié le 05/03/2017 à 12:01.

(Date de commande : 27/02/2017)

Pierres d'excellente qualité et super bracelet

4