Wind Rose - Sterling Silver interchangeable ring
---
Estimated delivery date, from Fri, 06 Oct 2023
Low stock - 2 items left

Inventory on the way
| | |
| --- | --- |
| Metal | Antique 925 silver |
| Origine | France |
| Poids argent théorique | 20g environ |
The wind rose was an essential tool to the navigator, it was a true help to choose wisely your next step and stay the course. This ring is an essential tool to your style arsenal as it will adapt to your outfit. Change the ornament on top in a few seconds and you get a new ring. The top ornament is secured by a neodyme magnet and can be easily switched thanks to the accessory that comes with it (or anything sharp that fits the hole to be honest... ).
925 Sterling Silver interchangeable ring
Base ring only, if you want to purchase this with an ornament please choose one of our packs here.
Custom Size Available - You can order a custom size for this ring. Please allow a 3-4 weeks delay before delivery.
1 YEAR GUARANTEE
Wind Rose - Sterling Silver interchangeable ring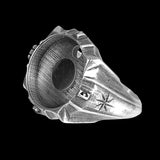 Avis à propos du produit
Voir l'attestation
Javier U.

Publié le 19/07/2023 à 21:52.

(Date de commande : 02/07/2023)

5

Jeremy P.

Publié le 13/09/2022 à 00:20.

(Date de commande : 03/09/2022)

5

Acheteur vérifié .

Publié le 09/02/2022 à 11:48.

(Date de commande : 29/01/2022)

un objet élégant et très ingénieux

5

Acheteur vérifié .

Publié le 19/12/2020 à 10:35.

(Date de commande : 09/12/2020)

Rend très bien mais pas encore offerte donc en attente de voir pour la taille

5

Acheteur vérifié .

Publié le 02/01/2020 à 10:13.

(Date de commande : 23/12/2019)

Bijou de qualité, tres bonne tenue de la partie aimantée plus système de bloquage supplémentaire ( une encoche permet d'éviter à la partie détachable de tourner sur elle meme

5

Acheteur vérifié .

Publié le 05/12/2019 à 18:44.

(Date de commande : 29/11/2019)

Trés belle bague de très bonne qualité mais plus grande que ce que l'on a mesuré. Ce n'est pas facile de savoir qu'elle est la bonne taille car le 65 de notre baguier correspond au 64 de notre triboulet et la bague est entre le 65 et 66 sur le triboulet. Nous la gardons car il l'a met à un autre doigt

4

Acheteur vérifié .

Publié le 09/09/2019 à 10:33.

(Date de commande : 03/09/2019)

Beau produit un peu rustique pour rester dans le côté flibustier

5

Acheteur vérifié .

Publié le 19/08/2019 à 15:27.

(Date de commande : 09/08/2019)

Au top, taille parfaite et l'ensemble est de qualité

5

Acheteur vérifié .

Publié le 01/08/2019 à 16:06.

(Date de commande : 24/07/2019)

5