Read's - Sterling Silver Ring
---
Estimated delivery date, from Tue, 03 Oct 2023
In stock, ready to ship

Inventory on the way
| | |
| --- | --- |
| Couleurs | Money |
| Metal | 925 silver |
| Origine | France |
| Poids | S (2.7g) M (3.5g) L (5.2g) |
925 Sterling Silver ring. 
Mirror polished Sterling Silver bangle ring with skulls.
Adjustable size.
S (2,7g) M (3,5g) L (5,2g)
Handcrafted in France.
Delivered in its box.
Custom Size -
 You can order a custom size for that ring. 
Print our size chart
 and tell us what your size is on the comments section when you place your order. Please allow 3-4 weeks delay before delivery.
1 YEAR GUARANTEE
Read's - Sterling Silver Ring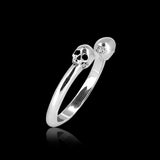 Avis à propos du produit
Voir l'attestation
Virginie V.

Publié le 12/11/2022 à 10:33.

(Date de commande : 29/10/2022)

5

Adeline A.

Publié le 12/09/2022 à 20:05.

(Date de commande : 06/09/2022)

Superbe bague, je l'adore! Discrète mais elle fait son effet

5

Acheteur vérifié .

Publié le 11/01/2022 à 13:39.

(Date de commande : 05/01/2022)

Splendide,je vais commander une autre très prochainement

5

Acheteur vérifié .

Publié le 16/09/2020 à 11:16.

(Date de commande : 06/09/2020)

Bague très belle, rien à dire sur la qualité

5

Acheteur vérifié .

Publié le 16/09/2020 à 10:40.

(Date de commande : 04/09/2020)

Très belle bague, très bonne qualité. Taille conforme.

5

Acheteur vérifié .

Publié le 14/08/2020 à 19:27.

(Date de commande : 03/08/2020)

Ma fille va adorer cette très jolie bague...

5

Acheteur vérifié .

Publié le 30/07/2020 à 17:38.

(Date de commande : 21/07/2020)

Anneau parfaitement travaillé; du joli travail! Ma moitié est comblée!

5

Acheteur vérifié .

Publié le 30/07/2020 à 17:07.

(Date de commande : 21/07/2020)

Comme toujours, de magnifiques produits et un service irréprochable. Merci !

5

Acheteur vérifié .

Publié le 17/07/2020 à 16:51.

(Date de commande : 07/07/2020)

5

Acheteur vérifié .

Publié le 31/05/2020 à 22:22.

(Date de commande : 27/05/2020)

Parfait, taille très bien

5

Acheteur vérifié .

Publié le 29/02/2020 à 09:03.

(Date de commande : 09/02/2020)

5

Acheteur vérifié .

Publié le 21/01/2020 à 07:09.

(Date de commande : 11/01/2020)

4

Acheteur vérifié .

Publié le 04/12/2019 à 00:46.

(Date de commande : 25/11/2019)

Boutique extraordinaire ! Rapide et pas chère !

5

Acheteur vérifié .

Publié le 11/02/2019 à 00:36.

(Date de commande : 05/02/2019)

Magnifique... Elle ira bien au doigt de ma magnifique femme

5

Acheteur vérifié .

Publié le 08/04/2018 à 16:09.

(Date de commande : 25/03/2018)

5

Acheteur vérifié .

Publié le 04/04/2018 à 09:41.

(Date de commande : 25/03/2018)

5

Acheteur vérifié .

Publié le 12/01/2018 à 19:16.

(Date de commande : 03/01/2018)

5

Acheteur vérifié .

Publié le 27/10/2017 à 21:32.

(Date de commande : 27/09/2017)

5

Acheteur vérifié .

Publié le 24/08/2017 à 03:00.

(Date de commande : 01/08/2017)

5

Acheteur vérifié .

Publié le 14/08/2017 à 12:55.

(Date de commande : 04/07/2017)

Belle matière, crânes de qualité, elle est parfaite ! Petit plus : elle me va comme un gant alors que les bagues S sont généralement trop grandes pour mon annulaire !

5

Acheteur vérifié .

Publié le 08/07/2017 à 15:26.

(Date de commande : 03/07/2017)

5

Acheteur vérifié .

Publié le 02/07/2017 à 10:43.

(Date de commande : 28/06/2017)

5

Acheteur vérifié .

Publié le 01/07/2017 à 15:22.

(Date de commande : 06/05/2017)

Elle est superbe et Ca à ravir avec ma black hamlet!!!

5

Acheteur vérifié .

Publié le 08/06/2017 à 15:08.

(Date de commande : 31/05/2017)

5

Acheteur vérifié .

Publié le 21/01/2017 à 21:24.

(Date de commande : 15/01/2017)

5

Acheteur vérifié .

Publié le 05/01/2017 à 20:18.

(Date de commande : 29/12/2016)

Magnifique bijou fidèle à sa description

5

Acheteur vérifié .

Publié le 26/12/2016 à 11:20.

(Date de commande : 21/12/2016)

Trés beau produit je suis satisfaite.

4