Premium wrap - Pacific abyss
---
Estimated delivery date, from Tue, 05 Dec 2023
In stock, ready to ship

Inventory on the way
| | |
| --- | --- |
| Couleurs | Blue |
| Diamètre des pierres | 8mm |
| Metal | 925 silver |
| Origine | France |
| Pierres | Larvikite, Hematite, Hotaru, Spinel |
| pierres1 | ["Larvikite","Hématite","Hotaru","Hématite","Spinelle","Hématite","Hotaru","Hématite"] |
One of our best seller; the Abyss Wrap, gets a makeover with our exclusive traditional Japanese handcrafted Hotaru (firefly glass) beads. A minimalist and elegant handmade bracelet for a stylish look but always with personality! Double wrap with our designer Sterling Silver skull and Balinese handcrafted beads. A great eye-catcher.
Traditional Japanese Hotaru glass (firefly glass) beads 08 mm
Hematite 08 mm
Spinel 08 mm
Larvikite 08 mm
Flibustier's washer Sterling Silver
Flibustier's skull Sterling Silver

EASY ON - Mounted on an elastic thread for an easy fit.

1 YEAR GUARANTEE
See our Cleaning and Care advices 
Premium wrap - Pacific abyss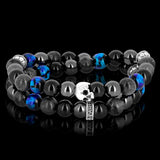 Avis à propos du produit
Voir l'attestation
Guillaume A.

Publié le 21/01/2023 à 21:32.

(Date de commande : 15/01/2023)

Ce bracelet est une pur merveille!

5

Etienne F.

Publié le 09/01/2023 à 16:10.

(Date de commande : 04/01/2023)

4

Maryse P.

Publié le 25/10/2022 à 14:29.

(Date de commande : 18/10/2022)

Super belles perles. Belles couleurs chatoyantes. Pas déçue de mon achat. Je reviendrai ....

5

AUDREY S.

Publié le 13/08/2022 à 18:18.

(Date de commande : 06/08/2022)

Magnifique bracelet. Acheté pour faire un cadeau à un homme. Perles de très belle qualité avec des couleurs encore plus jolies en vrai.

5

Acheteur vérifié .

Publié le 14/11/2021 à 11:35.

(Date de commande : 31/10/2021)

Un peu serré mais de très belle qualité et super rendu

4

Acheteur vérifié .

Publié le 27/10/2021 à 09:11.

(Date de commande : 18/10/2021)

5

Acheteur vérifié .

Publié le 19/09/2021 à 08:04.

(Date de commande : 09/09/2021)

bracelet de très bonne qualité

4

Acheteur vérifié .

Publié le 13/07/2021 à 01:26.

(Date de commande : 06/07/2021)

Très beau bracelet, que de belles choses chez flibustier

5

Acheteur vérifié .

Publié le 31/05/2021 à 20:02.

(Date de commande : 19/05/2021)

Magnifiques pierres et perles. Je recommande cette entreprise.

5

Acheteur vérifié .

Publié le 07/03/2021 à 16:17.

(Date de commande : 27/02/2021)

C'est un des plus beau bracelet à mon avis.

5

Acheteur vérifié .

Publié le 03/03/2021 à 23:11.

(Date de commande : 05/02/2021)

Très joli bijou de poignet. Les perles sont justes superbes. En tous points conforme à mes attentes. Le prix correspond à la qualité des perles.

5