Brothers of the Coast - Sterling Silver ring
---
Estimated delivery date, from Wed, 04 Oct 2023
Low stock - 2 items left

Inventory on the way
| | |
| --- | --- |
| Couleurs | Money |
| Metal | Antique 925 silver |
| Origine | France |
The Brothers of the Coast was the name given to a freely constituted association of free and independant men on the coasts of Santo Domingo. A name synonym of liberty, equality and freedom. 
Sterling Silver with antique patina skulls. Handmade in France.
Custom size available - Please allow 3 to 4 weeks for production
Sterling Silver with guarantee punch
Custom Size -
You can order a custom size for that ring.
Print our size chart
and tell us what your size is on the comments section when you place your order. Please allow 3-4 weeks delay before delivery.
1 YEAR GUARANTEE
Brothers of the Coast - Sterling Silver ring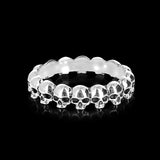 Avis à propos du produit
Voir l'attestation
Lorraine U.

Publié le 08/01/2023 à 17:37.

(Date de commande : 27/11/2022)

4

Gregory T.

Publié le 08/11/2022 à 21:37.

(Date de commande : 29/10/2022)

5

Justine Z.

Publié le 02/10/2022 à 12:06.

(Date de commande : 25/09/2022)

Parfait, excellente communication, envoi très rapide, bague parfaite, je suis ravie !

5

Nicolas R.

Publié le 27/09/2022 à 12:43.

(Date de commande : 20/09/2022)

Petite bague idéale pour celles et ceux qui recherchent quelque chose de discret

5

Philippe M.

Publié le 12/09/2022 à 00:55.

(Date de commande : 04/09/2022)

5

Mégan R.

Publié le 23/07/2022 à 22:23.

(Date de commande : 14/07/2022)

5

Spysschaert K.

Publié le 27/06/2022 à 23:21.

(Date de commande : 20/06/2022)

Un peu déçu car la bague est très fine pour une bague homme, les crânes sont petits, je trouve que c'est plutôt une bague pour femme. Mais ça reste un joli bijoux (pour ma femme)

Réponse du marchant

Bonjour, la largeur de la bague dépend de la taille commandée. Cette bague étant homothétique elle sera plus large sur les grandes tailles. N'hésitez pas à nous la renvoyer pour un échange ou un remboursement si vous le souhaitez.

3

Kristell P.

Publié le 13/06/2022 à 19:27.

(Date de commande : 07/06/2022)

superbe bague, fine, discrète et délicate, un vrai coup de coeur !

5

Acheteur vérifié .

Publié le 10/10/2021 à 21:21.

(Date de commande : 30/09/2021)

5

Acheteur vérifié .

Publié le 25/06/2021 à 14:03.

(Date de commande : 28/05/2021)

Magnifique bague. Discrète. Très belle finition.

5

Acheteur vérifié .

Publié le 12/06/2021 à 16:31.

(Date de commande : 02/06/2021)

Magnifique ! Finesse du détail, pièce unique.

5

Acheteur vérifié .

Publié le 18/01/2021 à 11:25.

(Date de commande : 07/01/2021)

Simple, efficace, j'adore !

5

Acheteur vérifié .

Publié le 07/11/2020 à 17:40.

(Date de commande : 30/10/2020)

Superbe bague, j'ai enlevé une étoile car la partie « dent » accroche un peu selon ma femme

4

Acheteur vérifié .

Publié le 15/07/2020 à 13:49.

(Date de commande : 02/07/2020)

Très belle bague, un digne bijou de pirates. Simplement parfait !!!!

5

Acheteur vérifié .

Publié le 20/06/2020 à 11:15.

(Date de commande : 15/06/2020)

Très belle bague pirate, j'espère que vous proposerez d'autres modèles dans ce style !

5

Acheteur vérifié .

Publié le 18/05/2020 à 23:14.

(Date de commande : 13/05/2020)

Conforme, prix , rapidité d'expédition, très belle bague . Je recommande Flibustier pour ma part 5 bagues et 8 bracelets

5

Acheteur vérifié .

Publié le 05/05/2020 à 00:11.

(Date de commande : 28/04/2020)

Bague magnifique, encore mieux en vrai qu'en photo. La taille est parfaite et la qualité du produit est incroyable. Je suis conquise!

5

Acheteur vérifié .

Publié le 07/03/2020 à 11:59.

(Date de commande : 27/02/2020)

Très belle bague, bonne finition, plus discrète qu'une chevalière tête de mort quand on aime cette esthétique mais qu'on n'est pas sûr d'assumer un gros crâne à son doigt. Un petit bémol sur la partie inférieure des crânes qui griffent un peu.

5

Acheteur vérifié .

Publié le 26/11/2019 à 10:24.

(Date de commande : 20/11/2019)

Très joli anneau à la finition délicate je regrette juste un peu la taille des cranes qui sont un peu petit. Taille parfaite .

5

Acheteur vérifié .

Publié le 15/09/2019 à 23:51.

(Date de commande : 10/09/2019)

Bague choisie pour faire un cadeau à un ami. Elle est magnifique ! Fine et discrète tout en ayant du caractère, une belle réussite.

5

Acheteur vérifié .

Publié le 13/06/2019 à 17:43.

(Date de commande : 05/06/2019)

5

Acheteur vérifié .

Publié le 25/02/2019 à 15:04.

(Date de commande : 20/02/2019)

5

Acheteur vérifié .

Publié le 08/09/2018 à 18:41.

(Date de commande : 01/09/2018)

5

Acheteur vérifié .

Publié le 15/06/2018 à 14:35.

(Date de commande : 07/06/2018)

3

Acheteur vérifié .

Publié le 09/04/2018 à 14:00.

(Date de commande : 26/03/2018)

2 bagues commandées et à porter en quinconce...super rendu.

5

Acheteur vérifié .

Publié le 04/04/2018 à 10:21.

(Date de commande : 26/03/2018)

Très belle bague en argent, un peu déçu par la taille, je l'imaginais plus large, ce sont des très petits cranes. Comme sur la photo promo, à porter avec une autre bague (mon prochain achat? ;-) )

4

Acheteur vérifié .

Publié le 29/03/2018 à 12:10.

(Date de commande : 19/03/2018)

5

Acheteur vérifié .

Publié le 03/03/2018 à 15:09.

(Date de commande : 23/02/2018)

5

Acheteur vérifié .

Publié le 12/01/2018 à 20:10.

(Date de commande : 29/12/2017)

5

Acheteur vérifié .

Publié le 12/01/2018 à 19:16.

(Date de commande : 03/01/2018)

5

Acheteur vérifié .

Publié le 27/12/2017 à 22:13.

(Date de commande : 11/12/2017)

5

Acheteur vérifié .

Publié le 19/12/2017 à 16:00.

(Date de commande : 13/12/2017)

livraison rapide et soignée

5

Acheteur vérifié .

Publié le 05/12/2017 à 20:57.

(Date de commande : 31/10/2017)

5

Acheteur vérifié .

Publié le 13/08/2017 à 14:50.

(Date de commande : 31/07/2017)

Belle surprise en découvrant cette bague, car je pensais la trouver avec des grosses tête de mort mais quand j'ai vu leur taille, j'ai été agréablement surprise.

5

Acheteur vérifié .

Publié le 12/08/2017 à 22:06.

(Date de commande : 27/07/2017)

5

Acheteur vérifié .

Publié le 12/08/2017 à 15:16.

(Date de commande : 02/08/2017)

5

Acheteur vérifié .

Publié le 20/06/2017 à 16:58.

(Date de commande : 24/05/2017)

joli travail, taille impeccable, bref très satisfait

5

Acheteur vérifié .

Publié le 08/06/2017 à 19:48.

(Date de commande : 08/05/2017)

5

Acheteur vérifié .

Publié le 08/06/2017 à 15:33.

(Date de commande : 28/05/2017)

Très belle bague, beaux détails. Tout à fait ce que j'attendais.

5

Acheteur vérifié .

Publié le 11/02/2017 à 15:34.

(Date de commande : 03/02/2017)

Magnifique, détaillée. Conforme à la description

5

Acheteur vérifié .

Publié le 03/02/2017 à 10:56.

(Date de commande : 11/01/2017)

5

Acheteur vérifié .

Publié le 27/01/2017 à 16:51.

(Date de commande : 11/01/2017)

5

Acheteur vérifié .

Publié le 21/01/2017 à 16:07.

(Date de commande : 27/12/2016)

5

Acheteur vérifié .

Publié le 15/11/2016 à 17:59.

(Date de commande : 31/10/2016)

Superbe, même si c'est un peu gênant au niveau des mâchoires des skulls...

4

Acheteur vérifié .

Publié le 14/10/2016 à 16:20.

(Date de commande : 11/10/2016)

Très belle bague que je destine à mon mariage. Donc que du bonheur

5

Acheteur vérifié .

Publié le 07/04/2016 à 00:54.

(Date de commande : 25/03/2016)

Très très contente exactement ce que j'avais demandé merci

5

Acheteur vérifié .

Publié le 06/04/2016 à 23:00.

(Date de commande : 31/03/2016)

La bague est conforme à la description. De taille parfaite pour les mains d'une femme (T52)

5

Acheteur vérifié .

Publié le 09/03/2016 à 15:20.

(Date de commande : 04/03/2016)

Un niveau de détails exelent.

5

Acheteur vérifié .

Publié le 04/03/2016 à 14:38.

(Date de commande : 14/12/2015)

This ring is amazing. Thank you =)

5

Acheteur vérifié .

Publié le 02/03/2016 à 14:08.

(Date de commande : 18/02/2016)

La bague est très belle et de binne qualité. Un modèle un peu plans large serais parfait.

4

Acheteur vérifié .

Publié le 12/02/2016 à 18:37.

(Date de commande : 20/01/2016)

5

Acheteur vérifié .

Publié le 29/01/2016 à 14:13.

(Date de commande : 24/01/2016)

Superbe bijou mon mari est ravi de ce cadeau . D autres commandes seront à venir

5

Acheteur vérifié .

Publié le 05/01/2016 à 09:53.

(Date de commande : 10/12/2015)

bague conforme au descriptif. Dommage tout de même que les dimensions ne soient pas toutes exprimées (hauteur de la bague)

5

Acheteur vérifié .

Publié le 03/11/2015 à 09:05.

(Date de commande : 02/10/2015)

5

Acheteur vérifié .

Publié le 13/10/2015 à 21:22.

(Date de commande : 28/09/2015)

produit de qualité, fin et de bon gout

5

Acheteur vérifié .

Publié le 30/08/2015 à 12:46.

(Date de commande : 16/07/2015)

5

Acheteur vérifié .

Publié le 28/08/2015 à 14:12.

(Date de commande : 04/07/2015)

5

Acheteur vérifié .

Publié le 28/08/2015 à 13:43.

(Date de commande : 31/03/2015)

MAIS C'EST MAGNIFIQUE !!!!!! C'est fin, propre, beau…

5