Drake's oath - Sterling Silver ring
---
Estimated delivery date, from Sun, 01 Oct 2023
Low stock - 2 items left

Inventory on the way
| | |
| --- | --- |
| Couleurs | Money |
| Metal | Antique 925 silver |
| Origine | France |
Sir Francis Drake was an English pirate knighted by Queen Elisabeth the 1st. Adored by English men, the Spanish king offered 20 000 Ducats (4 million £)  for his death.
Sterling Silver with antique patina skull signet ring with the mention "A pirate's life for me". Handmade in France.
Custom size available - Please allow 3 to 4 weeks for production
Sterling Silver with guarantee punch
Custom Size -
You can order a custom size for this ring.
Print our size chart
and tell us what your size is on the comments section when you place your order. Please allow a 3-4 weeks delay before delivery.
1 YEAR GUARANTEE
Drake's oath - Sterling Silver ring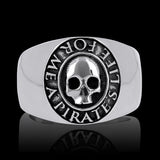 Avis à propos du produit
Voir l'attestation
Nicolas V.

Publié le 20/01/2023 à 15:19.

(Date de commande : 13/01/2023)

Magnifique bague! Très beau travail!

5

Mathieu D.

Publié le 25/10/2022 à 14:29.

(Date de commande : 26/09/2022)

5

Acheteur vérifié .

Publié le 15/09/2021 à 12:39.

(Date de commande : 08/09/2021)

5

Acheteur vérifié .

Publié le 27/06/2021 à 23:26.

(Date de commande : 16/06/2021)

5

Acheteur vérifié .

Publié le 26/08/2020 à 16:18.

(Date de commande : 27/07/2020)

5

Acheteur vérifié .

Publié le 15/05/2020 à 22:46.

(Date de commande : 09/05/2020)

J'adore! Service très rapide et sympa. Merci encore à toute l'équipe. Vos bijoux sont magnifiques

5

Acheteur vérifié .

Publié le 19/01/2020 à 11:11.

(Date de commande : 12/01/2020)

5

Acheteur vérifié .

Publié le 22/12/2019 à 19:44.

(Date de commande : 19/12/2019)

5

Acheteur vérifié .

Publié le 08/12/2019 à 22:32.

(Date de commande : 01/12/2019)

5

Acheteur vérifié .

Publié le 12/01/2019 à 11:13.

(Date de commande : 07/01/2019)

Un beau cadeau offert à mon ami qui a été ravi. Une belle finition et une très bonne qualité ! Je recommande vivement et j'ai hâte que vous sortiez de nouvelles choses encore

5

Acheteur vérifié .

Publié le 02/01/2019 à 19:40.

(Date de commande : 27/12/2018)

5

Acheteur vérifié .

Publié le 02/07/2018 à 12:58.

(Date de commande : 25/06/2018)

Magnifique chevalière et très joli emballage.

5

Acheteur vérifié .

Publié le 20/04/2018 à 15:07.

(Date de commande : 11/04/2018)

5

Acheteur vérifié .

Publié le 07/04/2018 à 14:31.

(Date de commande : 25/03/2018)

5

Acheteur vérifié .

Publié le 15/03/2018 à 15:31.

(Date de commande : 06/03/2018)

Pour l'instant excellent produit J'attends de voir dans le temps étant très soigneux ça devrait le faire mais ayant été déçu chez Orus je reste sur mes gardes. Je pense néanmoins que la qualité de Flibustier est au dessus.

5

Acheteur vérifié .

Publié le 12/03/2018 à 14:13.

(Date de commande : 02/03/2018)

Parfait Conforme a la description service rapide je recommande vivement !

5

Acheteur vérifié .

Publié le 16/02/2018 à 14:49.

(Date de commande : 07/02/2018)

5

Acheteur vérifié .

Publié le 14/11/2017 à 09:57.

(Date de commande : 31/10/2017)

5

Acheteur vérifié .

Publié le 12/11/2017 à 01:00.

(Date de commande : 31/10/2017)

La qualité de la bague est top.

5

Acheteur vérifié .

Publié le 22/03/2017 à 14:18.

(Date de commande : 17/03/2017)

5

Acheteur vérifié .

Publié le 25/02/2017 à 08:43.

(Date de commande : 17/02/2017)

très belle bague ,je suis une fois de plus ravi de mon achat ,

5

Acheteur vérifié .

Publié le 17/02/2017 à 23:23.

(Date de commande : 11/02/2017)

Très cool Mais taille grand

4

Acheteur vérifié .

Publié le 11/02/2017 à 18:47.

(Date de commande : 18/01/2017)

Je ne sais pas encore si c' est la bonne taille mais la bague est splendide

5

Acheteur vérifié .

Publié le 18/01/2017 à 19:00.

(Date de commande : 12/01/2017)

Très belle bague, j'en suis ravi !

5

Acheteur vérifié .

Publié le 12/01/2017 à 17:44.

(Date de commande : 07/01/2017)

Très beau bijou de qualité

5

Acheteur vérifié .

Publié le 10/01/2017 à 15:10.

(Date de commande : 06/01/2017)

Superbe bague, taille ok, très content.

5

Acheteur vérifié .

Publié le 28/12/2016 à 21:36.

(Date de commande : 16/12/2016)

Très belle bague, belle finition

5

Acheteur vérifié .

Publié le 25/12/2016 à 15:58.

(Date de commande : 21/12/2016)

Magnifique bague mais se raille hélas très rapidement

4

Acheteur vérifié .

Publié le 06/11/2016 à 14:43.

(Date de commande : 31/10/2016)

5

Acheteur vérifié .

Publié le 21/10/2016 à 19:03.

(Date de commande : 17/10/2016)

5

Acheteur vérifié .

Publié le 20/10/2016 à 15:19.

(Date de commande : 15/10/2016)

Produits magnifiques et made in France !!!

5

Acheteur vérifié .

Publié le 15/10/2016 à 15:36.

(Date de commande : 12/10/2016)

Très belle bague qui me va parfaitement!

5

Acheteur vérifié .

Publié le 02/10/2016 à 15:15.

(Date de commande : 28/09/2016)

5

Acheteur vérifié .

Publié le 16/09/2016 à 15:31.

(Date de commande : 11/09/2016)

Superbe bague qui fait son effet ! Beaucoup plus belle qu en photos avec son relief ! Rien a voir avec ce qu l'on propose sur internet. Qualité vraiment superieure ! N'hésitez pas, vous ne serez pas déçus !

5

Acheteur vérifié .

Publié le 04/06/2016 à 17:32.

(Date de commande : 06/02/2016)

5

Acheteur vérifié .

Publié le 29/02/2016 à 13:34.

(Date de commande : 15/02/2016)

conforme a l'annonce, elle fait sensation dépits que je la porte

4

Acheteur vérifié .

Publié le 27/01/2016 à 17:35.

(Date de commande : 16/01/2016)

Tout à fait conforme à mes attentes, petites imperfections qui prouvent que c'est du fait-main et donnent du cachet, taille conforme aux normes (la taille 9 est un vrai 60: ne taille pas trop petit ni trop grand).

5

Acheteur vérifié .

Publié le 08/01/2016 à 10:47.

(Date de commande : 17/12/2015)

5

Acheteur vérifié .

Publié le 03/11/2015 à 07:59.

(Date de commande : 11/10/2015)

Attention à bien choisire la taille des bague personnalisé elle sont non échangeable

5

Acheteur vérifié .

Publié le 24/09/2015 à 09:55.

(Date de commande : 11/09/2015)

FANTASTIQUE !!!! superbe bague ...une merveille!!!

5

Acheteur vérifié .

Publié le 28/08/2015 à 17:57.

(Date de commande : 06/07/2015)

5

Acheteur vérifié .

Publié le 28/08/2015 à 15:26.

(Date de commande : 12/04/2015)

5