Bonny's Rose
---
Estimated delivery date, from Thu, 28 Sep 2023
Low stock - 1 item left

Inventory on the way
| | |
| --- | --- |
| Couleurs | Money |
| Metal | 925 silver |
| Origine | France |
Ann Bonny was an Irish girl who made her way through piracy with her charms and intelligence. She has sailed with Calico jack and Mary Read and was one of the most famous woman pirate. 
Sterling Silver with antique patina skull in a rose. Handmade in France.
Custom size available 
Sterling Silver with guarantee punch
Custom Size - You can order a custom size for this ring. Print our size chart and tell us what your size is on the comments section when you place your order. Please allow 2-3 weeks delay before delivery.
Bonny's Rose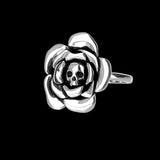 Avis à propos du produit
Voir l'attestation
Sarah T.

Publié le 14/12/2022 à 21:13.

(Date de commande : 30/11/2022)

5

François R.

Publié le 19/10/2022 à 19:00.

(Date de commande : 11/10/2022)

Merci Flibustier. Belle bague conforme à mes attentes.

5

Bérengère P.

Publié le 01/10/2022 à 21:57.

(Date de commande : 20/09/2022)

5

Acheteur vérifié .

Publié le 03/01/2022 à 12:42.

(Date de commande : 21/12/2021)

Magnifique bague très finement ciselée

5

Acheteur vérifié .

Publié le 22/12/2021 à 15:07.

(Date de commande : 10/12/2021)

5

Acheteur vérifié .

Publié le 16/02/2021 à 09:21.

(Date de commande : 05/02/2021)

5

Acheteur vérifié .

Publié le 15/11/2020 à 16:55.

(Date de commande : 08/11/2020)

Très belle pièce avec une belle précision, vous avez le goût du détail

5

Acheteur vérifié .

Publié le 11/11/2020 à 17:29.

(Date de commande : 02/11/2020)

Je l'ai commandé en avance du au covid, c'est pour l'anniversaire de mon épouse qui est le 18 décembre. J'espère juste que la taille sera bonne.

5

Acheteur vérifié .

Publié le 09/06/2020 à 11:23.

(Date de commande : 29/05/2020)

Tres bien conforme a les attente

5

Acheteur vérifié .

Publié le 07/03/2020 à 23:25.

(Date de commande : 02/03/2020)

5

Acheteur vérifié .

Publié le 18/08/2019 à 00:02.

(Date de commande : 01/08/2019)

Parfait, Mme est ravie...

5

Acheteur vérifié .

Publié le 16/03/2019 à 16:01.

(Date de commande : 11/03/2019)

Très belle finition et produit de très bonne qualité

5

Acheteur vérifié .

Publié le 04/02/2019 à 20:47.

(Date de commande : 27/01/2019)

5

Acheteur vérifié .

Publié le 14/02/2018 à 13:15.

(Date de commande : 26/01/2018)

5

Acheteur vérifié .

Publié le 10/02/2018 à 06:00.

(Date de commande : 29/01/2018)

Exactement conforme à la photo...tout simplement magnifique et très originale.J'adore!

5

Acheteur vérifié .

Publié le 14/11/2017 à 19:58.

(Date de commande : 31/10/2017)

Magnifique bague qui suscite la curiosité. Merci Flibustier Paris de nous proposer de très jolis bijoux originaux !

5

Acheteur vérifié .

Publié le 08/06/2017 à 20:26.

(Date de commande : 25/04/2017)

Elle est splendide ! Tout le monde veut me la piquer !!!

5

Acheteur vérifié .

Publié le 05/02/2017 à 17:23.

(Date de commande : 23/01/2017)

Livré rapidement. Bien emballé. Produit conforme

5

Acheteur vérifié .

Publié le 21/01/2017 à 21:24.

(Date de commande : 15/01/2017)

4

Acheteur vérifié .

Publié le 25/12/2016 à 18:18.

(Date de commande : 17/12/2016)

Très jolie, bien finie, originale cette bague est devenue ma favorite

5

Acheteur vérifié .

Publié le 27/09/2016 à 15:18.

(Date de commande : 13/09/2016)

5

Acheteur vérifié .

Publié le 30/07/2016 à 15:28.

(Date de commande : 23/07/2016)

super elle va dire oui et si ca marche il y aura une autre commande qui suivra ...

5

Acheteur vérifié .

Publié le 15/04/2016 à 16:52.

(Date de commande : 11/04/2016)

4

Acheteur vérifié .

Publié le 13/03/2016 à 14:25.

(Date de commande : 13/12/2015)

5

Acheteur vérifié .

Publié le 12/03/2016 à 20:39.

(Date de commande : 04/03/2016)

Bague splendide, originale et ultra féminine. Bijou totalement fidèle á la description et finitions parfaites.

5

Acheteur vérifié .

Publié le 01/03/2016 à 01:29.

(Date de commande : 29/01/2016)

5

Acheteur vérifié .

Publié le 21/01/2016 à 09:14.

(Date de commande : 04/01/2016)

5

Acheteur vérifié .

Publié le 16/01/2016 à 07:45.

(Date de commande : 09/01/2016)

5

Acheteur vérifié .

Publié le 09/01/2016 à 10:49.

(Date de commande : 27/11/2015)

5

Acheteur vérifié .

Publié le 04/01/2016 à 16:39.

(Date de commande : 25/11/2015)

5

Acheteur vérifié .

Publié le 23/12/2015 à 10:08.

(Date de commande : 05/12/2015)

5

Acheteur vérifié .

Publié le 31/08/2015 à 19:04.

(Date de commande : 09/05/2015)

Superbe bague , très originale. J'adore votre univers.

5

Acheteur vérifié .

Publié le 28/08/2015 à 14:27.

(Date de commande : 28/07/2015)

5

Acheteur vérifié .

Publié le 28/08/2015 à 14:24.

(Date de commande : 09/07/2015)

très belle surprise ...superbe bijou ..

5