Kraken Ring - Sterling Silver ring
---
Estimated delivery date, from Sun, 01 Oct 2023
Low stock - 1 item left

Inventory on the way
| | |
| --- | --- |
| Couleurs | Money |
| Metal | Antique 925 silver |
| Origine | France |
| Poids | 57:28.3 / 60:35.1 / 63:40.8g / 66:47.1g |
"Floating islands are always Krakens" E. Pontoppidan
Sterling Silver octopus ring inspired by the Scandinavian myth. Handmade in France from a sculpture of Parisian artist Greg Besson.
Custom sizes available - Please allow 3 to 4 weeks for production
Sterling Silver with guarantee punch
Custom Size -
You can order a custom size for that ring.
Print our size chart
and tell us what your size is on the comments section when you place your order. Please allow a 3-4 weeks delay before delivery.
1 YEAR GUARANTEE
Kraken Ring - Sterling Silver ring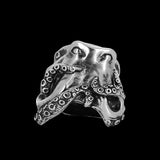 Avis à propos du produit
Voir l'attestation
MELISA D.

Publié le 27/03/2023 à 21:30.

(Date de commande : 16/03/2023)

juste magnifique prendre sa taille

5

Geoffrey B.

Publié le 03/10/2022 à 12:31.

(Date de commande : 23/09/2022)

Super finitions et envoie rapide

5

SAUCIER A.

Publié le 21/05/2022 à 09:39.

(Date de commande : 16/04/2022)

Très beau bijoux à la qualité de finition au top, un très grand plaisir de la porter.

5

FABIEN R.

Publié le 10/05/2022 à 23:21.

(Date de commande : 02/05/2022)

Bijou unique et singulier ! Ergonomique malgré la masse et très belle création. Finitions soignées. Bravo aux créateurs(trices) pour le travail.

5

Benjamin G.

Publié le 18/02/2022 à 21:48.

(Date de commande : 08/02/2022)

Excellent, je craignais qu'elle soit trop grosse ou inconfortable, mais non c'est parfait pour moi, j'adore. Les détails sont superbes.

5

Acheteur vérifié .

Publié le 13/11/2021 à 13:53.

(Date de commande : 25/10/2021)

5

Acheteur vérifié .

Publié le 08/07/2021 à 13:31.

(Date de commande : 01/07/2021)

Le produit est de très bonne qualité, avec pleins de petits détails et bien fini.

5

Acheteur vérifié .

Publié le 14/09/2020 à 21:33.

(Date de commande : 05/09/2020)

5

Acheteur vérifié .

Publié le 30/05/2020 à 21:37.

(Date de commande : 21/05/2020)

Qualité irréprochable comme toujours

5

Acheteur vérifié .

Publié le 06/05/2020 à 18:59.

(Date de commande : 27/04/2020)

Juste sublime. Pleine, ronde, très agréable à porter et à toucher. Singulière.

5

Acheteur vérifié .

Publié le 01/11/2019 à 21:27.

(Date de commande : 24/10/2019)

Très très très belle bague, des détails de folie. En bref elle est juste parfaite

5

Acheteur vérifié .

Publié le 18/08/2019 à 23:52.

(Date de commande : 22/07/2019)

5

Acheteur vérifié .

Publié le 07/08/2019 à 12:50.

(Date de commande : 02/07/2019)

Fidèle aux photos, très belle bague de qualité

5

Acheteur vérifié .

Publié le 31/07/2019 à 02:45.

(Date de commande : 01/07/2019)

Très belle qualité comme toujours, superbe maquettage. Bague volumineuse pour mes mains.

4

Acheteur vérifié .

Publié le 01/02/2018 à 13:54.

(Date de commande : 24/01/2018)

Produit haut de gamme, très belle finition. Dans l'esprit.

5