K.I.S.S. - Sterling Silver and matte onyx bracelet
---
Estimated delivery date, from Tue, 05 Dec 2023
In stock, ready to ship

Inventory on the way
| | |
| --- | --- |
| Couleurs | Black |
| Diamètre des pierres | 8mm |
| Metal | 925 silver |
| Origine | France |
| Pierres | Onyx |
| pierres1 | ["Onyx"] |
Keep It Simple Silly, a collection of bracelets handmade with gemstones and Sterling Silver. Available in several colors to style your wrist to your outfit. Handmade Matte Onyx Bracelet. 
Matte onyx 08 mm
Flibustier's ring Sterling Silver
Flibustier's skull Sterling Silver
EASY ON - Mounted on an elastic thread for an easy fit.
1 YEAR GUARANTEE
K.I.S.S. - Sterling Silver and matte onyx bracelet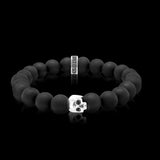 Avis à propos du produit
Voir l'attestation
Bouillet D.

Publié le 06/11/2023 à 16:01.

(Date de commande : 27/10/2023)

Les bracelets étaient parfait, c'était une demande de custom spécial pour des bracelets avec les couleurs de l'autisme qui sont tout simplement sublimes. Merci encore

5

Phaner P.

Publié le 25/09/2023 à 11:31.

(Date de commande : 15/09/2023)

5

Cécile B.

Publié le 02/01/2023 à 11:00.

(Date de commande : 22/12/2022)

Conforme à la description. Magnifique.

5

Arnaud P.

Publié le 06/12/2022 à 18:50.

(Date de commande : 25/11/2022)

Produits super et de bonne qualité

4

Elodie S.

Publié le 08/11/2022 à 19:29.

(Date de commande : 29/10/2022)

5

Philippe B.

Publié le 19/02/2022 à 21:10.

(Date de commande : 09/02/2022)

Une perle de plus pour la taille en ce qui me concerne et ce serait parfait . Sinon très beau bracelet :)

4

Acheteur vérifié .

Publié le 16/02/2022 à 20:45.

(Date de commande : 03/02/2022)

Le bracelet était présenté dans sa pochette en cuir. Il est superbe. Je l'ai offert à mon compagnon et il lui va super bien! J'avais mesuré un tour de poignet de 17cm donc j'ai pris taille M et comme c'est un peu élastique la taille convient parfaitement. Il ne serre pas trop mais le baille pas non plus. Juste près de la peau comme le voulait mon compagnon. Je suis ravie de mon achat et lui de son cadeau

5

Acheteur vérifié .

Publié le 12/02/2021 à 16:53.

(Date de commande : 14/12/2020)

5

Acheteur vérifié .

Publié le 08/11/2020 à 17:00.

(Date de commande : 30/10/2020)

Très beau ! Élastique très solide ! Pas déçue du tout

5

Acheteur vérifié .

Publié le 18/11/2019 à 12:08.

(Date de commande : 31/10/2019)

5

Acheteur vérifié .

Publié le 30/09/2019 à 19:00.

(Date de commande : 26/09/2019)

Superbe. Une taille intermédiaire serait bien venue.

5

Acheteur vérifié .

Publié le 29/08/2019 à 18:50.

(Date de commande : 14/08/2019)

4

Acheteur vérifié .

Publié le 03/02/2019 à 22:36.

(Date de commande : 29/01/2019)

Conforme a la description et vraiment plus beau en vrais

5

Acheteur vérifié .

Publié le 29/06/2018 à 16:57.

(Date de commande : 18/06/2018)

Très joli bracelet, belle qualité de fabrication, esprit rock

5

Acheteur vérifié .

Publié le 25/04/2018 à 13:58.

(Date de commande : 17/04/2018)

Tout était conforme sauf un détail du message et le packaging très soigné.

5

Acheteur vérifié .

Publié le 08/04/2018 à 17:31.

(Date de commande : 26/03/2018)

5

Acheteur vérifié .

Publié le 15/03/2018 à 22:03.

(Date de commande : 08/03/2018)

Livraison respectée, petite carte personnalisée. Produit de qualité. Extrêmement satisfaite, je conseille fortement

5

Acheteur vérifié .

Publié le 23/02/2018 à 13:31.

(Date de commande : 09/02/2018)

5

Acheteur vérifié .

Publié le 20/02/2018 à 13:37.

(Date de commande : 09/02/2018)

Super produit conforme aux descriptions je recommanderais d'autres produits sans problèmes

5

Acheteur vérifié .

Publié le 17/02/2018 à 21:26.

(Date de commande : 11/02/2018)

5

Acheteur vérifié .

Publié le 26/12/2017 à 14:42.

(Date de commande : 17/12/2017)

5

Acheteur vérifié .

Publié le 26/10/2017 à 20:14.

(Date de commande : 21/09/2017)

5

Acheteur vérifié .

Publié le 04/10/2017 à 21:49.

(Date de commande : 09/08/2017)

Produit de qualité.. Identique aux photos du site

5

Acheteur vérifié .

Publié le 12/08/2017 à 14:55.

(Date de commande : 01/07/2017)

Très beau produit Pierres de bonnes qualité Un rendu magnifique

5

Acheteur vérifié .

Publié le 08/06/2017 à 15:11.

(Date de commande : 22/04/2017)

5

Acheteur vérifié .

Publié le 08/06/2017 à 15:05.

(Date de commande : 19/05/2017)

5

Acheteur vérifié .

Publié le 11/02/2017 à 15:34.

(Date de commande : 03/02/2017)

Qualité impeccable. Conforme.

5

Acheteur vérifié .

Publié le 26/01/2017 à 16:53.

(Date de commande : 21/01/2017)

Bijoux magnifique en vrai et de bonne qualité

5

Acheteur vérifié .

Publié le 03/01/2017 à 13:31.

(Date de commande : 15/12/2016)

Bracelet fin mais masculin , de superbes perles. Un très beau bijou de qualité.

5

Acheteur vérifié .

Publié le 03/01/2017 à 11:26.

(Date de commande : 16/12/2016)

parfait même si j'avais commandé trop grand

5

Acheteur vérifié .

Publié le 25/12/2016 à 15:05.

(Date de commande : 20/12/2016)

4

Acheteur vérifié .

Publié le 22/12/2016 à 21:34.

(Date de commande : 15/12/2016)

Le bracelet tient toutes ses promesses, belle qualité très beau produit satisfaite de cet achat

4

Acheteur vérifié .

Publié le 20/12/2016 à 17:24.

(Date de commande : 13/12/2016)

5

Acheteur vérifié .

Publié le 13/12/2016 à 23:32.

(Date de commande : 09/12/2016)

5

Acheteur vérifié .

Publié le 13/12/2016 à 17:40.

(Date de commande : 06/12/2016)

Très beau produit, très bonne qualité

5

Acheteur vérifié .

Publié le 10/12/2016 à 16:06.

(Date de commande : 06/12/2016)

Satisfaite du bracelet. Je pensais juste que les perles étaient plus grosse. Mais au contraire discret et beau.

5

Acheteur vérifié .

Publié le 26/10/2016 à 01:07.

(Date de commande : 19/10/2016)

superbe, classe, rock n roll

5

Acheteur vérifié .

Publié le 17/10/2016 à 09:51.

(Date de commande : 10/10/2016)

produit de bonne qualité conforme à la photo.

5

Acheteur vérifié .

Publié le 13/10/2016 à 15:46.

(Date de commande : 10/10/2016)

5

Acheteur vérifié .

Publié le 10/09/2016 à 10:56.

(Date de commande : 30/08/2016)

produit conforme a mes attentes.

5

Acheteur vérifié .

Publié le 03/09/2016 à 21:54.

(Date de commande : 29/08/2016)

4

Acheteur vérifié .

Publié le 25/08/2016 à 19:19.

(Date de commande : 20/08/2016)

5

Acheteur vérifié .

Publié le 29/07/2016 à 11:23.

(Date de commande : 24/07/2016)

5

Acheteur vérifié .

Publié le 08/07/2016 à 14:14.

(Date de commande : 03/07/2016)

Superbe bracelet des finitions au top reste avoir la durée des pierre surtout au niveau de l'aspect mat première mais certainement pas la dernière commande :) 🇫🇷

5

Acheteur vérifié .

Publié le 15/03/2016 à 21:49.

(Date de commande : 07/03/2016)

5

Acheteur vérifié .

Publié le 02/03/2016 à 17:24.

(Date de commande : 04/12/2015)

Bonne qualité, beau produit

5

Acheteur vérifié .

Publié le 02/03/2016 à 13:11.

(Date de commande : 20/12/2015)

5

Acheteur vérifié .

Publié le 20/02/2016 à 13:38.

(Date de commande : 14/02/2016)

Beau rendu des Onyx ! Bracelet masculin et viril ! J'aimerais juste l'avoir avec des pierres encore plus larges...

4

Acheteur vérifié .

Publié le 26/01/2016 à 17:13.

(Date de commande : 17/12/2015)

Simple et apparement de bonne qualité

4

Acheteur vérifié .

Publié le 22/12/2015 à 12:33.

(Date de commande : 11/12/2015)

5

Acheteur vérifié .

Publié le 04/12/2015 à 08:02.

(Date de commande : 27/11/2015)

3

Acheteur vérifié .

Publié le 24/09/2015 à 09:16.

(Date de commande : 05/09/2015)

KISS, la sobriété embrasse la décadence. Bijou stylé. À porter par paire ... si vous êtes un pirate!

4

Acheteur vérifié .

Publié le 28/08/2015 à 13:56.

(Date de commande : 12/06/2015)

4* alors que j'aurais mis que 3* normalement, pourquoi? parceque je l'ai échangé par le même mais en onyx brillant car le mat est splendide mais ce ternis très vite sur le contour des perles pour un rendu pas très top alors que le brillant ne bouge pas en plus d'être splendide où j'aurais mis 5*/5, donc j'ai coupé la poire en deux

4