K.I.S.S. - Tiger's eye and Sterling Silver bracelet
---
Important Disclaimer for Bespoke Orders with Custom Sizes
Each bespoke order with a custom size is meticulously handcrafted to meet your specific requirements. Due to the personalized nature of these unique pieces, production may take between 3 to 6 weeks. We appreciate your patience and understanding as we work to ensure that your custom piece meets our high standards of quality and craftsmanship. Thank you for choosing a tailor-made experience with us.
Estimated delivery date, from Sun, 17 Dec 2023
In stock, ready to ship

Inventory on the way
| | |
| --- | --- |
| Couleurs | Chestnut |
| Diamètre des pierres | 8mm |
| Metal | 925 silver |
| Origine | France |
| Pierres | Eye of tiger |
| pierres1 | ["Oeil de tigre"] |
Keep It Simple Silly, a collection of bracelets handmade with gemstones and Sterling Silver. Available in several colors to style your wrist to your outfit. Handmade Tiger's eye bracelet. 
Tiger's eye 08 mm
Flibustier's ring Sterling Silver
Flibustier's skull Sterling Silver
EASY ON - Mounted on an elastic thread for an easy fit.
1 YEAR GUARANTEE
K.I.S.S. - Tiger's eye and Sterling Silver bracelet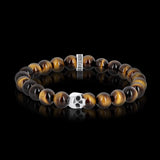 Avis à propos du produit
Voir l'attestation
Mathias A.

Publié le 14/09/2023 à 20:22.

(Date de commande : 04/09/2023)

5

Geoffrey H.

Publié le 28/08/2023 à 20:48.

(Date de commande : 18/08/2023)

5

Acheteur vérifié .

Publié le 16/11/2021 à 21:31.

(Date de commande : 24/10/2021)

Très satisfaite du bracelet, celui ci correspond à mes attentes, à la description et aux photos. C'est un Bijoux de qualité. Paquet fait avec soin et en petit plus un petit cadeau car le colis avait été perdu par le transporteur, indépendant de la responsabilité du Flibustier. Personnel à l'écoute, disponible et réactif. Je recommande +++++

5

Acheteur vérifié .

Publié le 23/08/2021 à 16:49.

(Date de commande : 07/08/2021)

5

Acheteur vérifié .

Publié le 28/07/2021 à 23:49.

(Date de commande : 19/07/2021)

Il est magnifique et orignal… idéal pour les pirates

5

Acheteur vérifié .

Publié le 05/04/2020 à 10:30.

(Date de commande : 29/03/2020)

Produit de qualité, peut-être un peu cher mais fabriqué en France à la main. Le skull en argent est bien fini, bravo à vous de proposer de tels produits et merci pour cette livraison rapide en cette période tourmentée.

5

Acheteur vérifié .

Publié le 08/03/2020 à 22:10.

(Date de commande : 02/03/2020)

5

Acheteur vérifié .

Publié le 28/02/2020 à 09:17.

(Date de commande : 15/02/2020)

5

Acheteur vérifié .

Publié le 03/02/2020 à 10:13.

(Date de commande : 24/01/2020)

Aussi beau que sur la photo ! Mon conjoint est très heureux.

5

Acheteur vérifié .

Publié le 16/12/2019 à 22:52.

(Date de commande : 10/12/2019)

Tres beau bijoux!! Les couleurs de ces pierres sont incroyables.

5

Acheteur vérifié .

Publié le 22/11/2019 à 22:51.

(Date de commande : 15/11/2019)

Tres très beau! Un vrai bijou !

5

Acheteur vérifié .

Publié le 15/09/2019 à 15:23.

(Date de commande : 08/09/2019)

5

Acheteur vérifié .

Publié le 12/08/2019 à 15:38.

(Date de commande : 03/08/2019)

Trop large alors que celui en onyx (21 cm aussi) est correct

3

Acheteur vérifié .

Publié le 29/07/2019 à 18:08.

(Date de commande : 22/07/2019)

5

Acheteur vérifié .

Publié le 17/06/2019 à 15:36.

(Date de commande : 06/06/2019)

Le bracelet est parfait, très beau, je suis un vrai pirate.

5

Acheteur vérifié .

Publié le 14/05/2019 à 07:23.

(Date de commande : 07/05/2019)

5

Acheteur vérifié .

Publié le 16/02/2019 à 20:57.

(Date de commande : 11/02/2019)

Très belle finition, livraison très rapide . Site sérieux.

5

Acheteur vérifié .

Publié le 03/07/2018 à 10:40.

(Date de commande : 26/06/2018)

5

Acheteur vérifié .

Publié le 01/07/2018 à 15:07.

(Date de commande : 24/06/2018)

Très beau, correspond parfaitement

5

Acheteur vérifié .

Publié le 24/02/2018 à 13:47.

(Date de commande : 10/02/2018)

5

Acheteur vérifié .

Publié le 23/01/2018 à 08:56.

(Date de commande : 11/01/2018)

5

Acheteur vérifié .

Publié le 12/08/2017 à 17:37.

(Date de commande : 04/07/2017)

5

Acheteur vérifié .

Publié le 25/02/2017 à 13:46.

(Date de commande : 20/02/2017)

Tout simplement magnifique !!!

5

Acheteur vérifié .

Publié le 28/10/2016 à 15:23.

(Date de commande : 24/10/2016)

5

Acheteur vérifié .

Publié le 18/10/2016 à 12:13.

(Date de commande : 12/10/2016)

Très beau bracelet, de qualité !

5

Acheteur vérifié .

Publié le 17/10/2016 à 20:40.

(Date de commande : 13/10/2016)

Parfait comme chaque achat que j ai fait sur le site ou sur les festival harley jamais déçu,c est sur la qualité est bien présente

5

Acheteur vérifié .

Publié le 22/08/2016 à 00:59.

(Date de commande : 17/08/2016)

5

Acheteur vérifié .

Publié le 13/08/2016 à 15:49.

(Date de commande : 09/08/2016)

Très bonne finition, bon effet. Ensemble acheté basé sur un look du jour vu sur facebook.

5

Acheteur vérifié .

Publié le 29/07/2016 à 15:22.

(Date de commande : 22/07/2016)

à la hauteur de mes attentes

5

Acheteur vérifié .

Publié le 18/07/2016 à 11:45.

(Date de commande : 02/07/2016)

Très bien, conforme à mes attentes, je recommande !

5

Acheteur vérifié .

Publié le 03/06/2016 à 01:37.

(Date de commande : 17/02/2016)

5

Acheteur vérifié .

Publié le 01/06/2016 à 16:00.

(Date de commande : 06/12/2015)

Trés bonne qualité des bracelets, je recommande sans hésiter!

5

Acheteur vérifié .

Publié le 04/04/2016 à 19:12.

(Date de commande : 30/03/2016)

5

Acheteur vérifié .

Publié le 23/01/2016 à 14:12.

(Date de commande : 17/01/2016)

5

Acheteur vérifié .

Publié le 10/01/2016 à 12:48.

(Date de commande : 02/01/2016)

Magnifique bracelet en pierre d'oeil de tigre, avec de très beaux reflets donnés par la pierre et ce crâne en argent.

5

Acheteur vérifié .

Publié le 12/12/2015 à 09:48.

(Date de commande : 05/12/2015)

5

Acheteur vérifié .

Publié le 28/11/2015 à 15:41.

(Date de commande : 22/11/2015)

4

Acheteur vérifié .

Publié le 13/11/2015 à 21:38.

(Date de commande : 31/10/2015)

5