Hamlet Ring - Sterling Silver skull ring
---
Estimated delivery date, from Sun, 01 Oct 2023
Low stock - 2 items left

Inventory on the way
| | |
| --- | --- |
| Couleurs | Money |
| Metal | Antique 925 silver |
| Origine | France |
"To be, or not to be, that is the question.

Whether 'tis nobler in the mind to suffer
The slings and arrows of outrageous fortune,
Or to take arms against a sea of troubles,
And, by opposing, end them. "
Sterling Silver with antique patina skull. Handmade in France.
Custom size available - Please allow 3 to 4 weeks for production
Sterling Silver with guarantee punch
Custom Size -
You can order a custom size for this ring.
Print our size chart
and tell us what your size is on the comments section when you place your order. Please allow a 3-4 weeks delay before delivery.
1 YEAR GUARANTEE
Hamlet Ring - Sterling Silver skull ring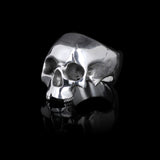 Avis à propos du produit
Voir l'attestation
Laurent B.

Publié le 14/09/2023 à 10:06.

(Date de commande : 03/09/2023)

J'ADORE . Elle attire les regards .

5

Dominique D.

Publié le 12/12/2022 à 16:33.

(Date de commande : 30/11/2022)

On "sent" la qualité au bout des doigts ! Très beau bijou, classieux par dessus tout....

5

Jeremie P.

Publié le 12/12/2022 à 10:05.

(Date de commande : 30/11/2022)

5

OLIVIER B.

Publié le 14/11/2022 à 15:30.

(Date de commande : 06/11/2022)

Très beau produit, bonne ergonomie et belle finition

5

Karine L.

Publié le 01/08/2022 à 18:10.

(Date de commande : 23/07/2022)

je l'adoooooore, il lui manque des petites soeurs :)

5

ALAIN D.

Publié le 28/03/2022 à 22:04.

(Date de commande : 20/03/2022)

5

Acheteur vérifié .

Publié le 23/12/2021 à 20:13.

(Date de commande : 15/12/2021)

5

Acheteur vérifié .

Publié le 10/12/2021 à 22:00.

(Date de commande : 01/12/2021)

5

Acheteur vérifié .

Publié le 27/06/2021 à 23:26.

(Date de commande : 16/06/2021)

5

Acheteur vérifié .

Publié le 07/06/2021 à 01:05.

(Date de commande : 30/05/2021)

Très belle bague pour homme, lourde, de qualité, encore plus belle en vrai.

5

Acheteur vérifié .

Publié le 15/12/2020 à 16:35.

(Date de commande : 02/12/2020)

vraiment magnifique . Un très beau bijou de très belle qualité

5

Acheteur vérifié .

Publié le 26/08/2020 à 16:19.

(Date de commande : 01/08/2020)

5

Acheteur vérifié .

Publié le 20/06/2020 à 00:29.

(Date de commande : 13/06/2020)

Cette bague est incroyablement détaillée, c'est l'indispensable de la collection !

5

Acheteur vérifié .

Publié le 26/04/2020 à 18:02.

(Date de commande : 17/04/2020)

Elle est tellement parfaite. C'est LA bague skull à avoir!

5

Acheteur vérifié .

Publié le 13/03/2020 à 09:50.

(Date de commande : 07/03/2020)

5

Acheteur vérifié .

Publié le 19/08/2019 à 21:42.

(Date de commande : 31/07/2019)

J'adore cette Bague Skull Argent Mais s'accr À mon doigt Je préfère ne pas la garder et vous acheter plus tard un autre article soit chapelet ou soit Bracelet rackham mais pour l'instant je souhaite être remboursé Merci beaucoup pour votre compréhension et votre sérieux

5

Acheteur vérifié .

Publié le 28/07/2019 à 21:19.

(Date de commande : 19/07/2019)

5

Acheteur vérifié .

Publié le 10/06/2019 à 09:09.

(Date de commande : 04/06/2019)

Déjà 2 commandes et aucun problème produits de qualité. Juste les prix qui sont un peu élevés

5

Acheteur vérifié .

Publié le 26/05/2019 à 23:23.

(Date de commande : 21/05/2019)

Superbe et la livraison rapide

5

Acheteur vérifié .

Publié le 23/04/2019 à 11:03.

(Date de commande : 08/04/2019)

5

Acheteur vérifié .

Publié le 25/02/2019 à 12:04.

(Date de commande : 08/02/2019)

5

Acheteur vérifié .

Publié le 15/02/2019 à 00:29.

(Date de commande : 01/02/2019)

5

Acheteur vérifié .

Publié le 28/01/2019 à 13:56.

(Date de commande : 12/01/2019)

Un superbe bijoux à déballer de son écrin. Suis ravie !

5

Acheteur vérifié .

Publié le 14/01/2019 à 09:40.

(Date de commande : 07/01/2019)

Bague identique aux visuels, belle pièce et grande attention au détail. À noter que les orbites sont ouvertes sur la base, ce qui est visible sur la première photo mais discret.

5

Acheteur vérifié .

Publié le 18/08/2018 à 16:26.

(Date de commande : 02/08/2018)

5

Acheteur vérifié .

Publié le 14/02/2018 à 13:15.

(Date de commande : 26/01/2018)

Produit superbe en adéquation avec mes attentes et fidèle à la description

5

Acheteur vérifié .

Publié le 10/02/2018 à 18:21.

(Date de commande : 27/01/2018)

5

Acheteur vérifié .

Publié le 03/02/2018 à 13:27.

(Date de commande : 13/01/2018)

Encore plus belle qu'en Photo

5

Acheteur vérifié .

Publié le 29/01/2018 à 08:44.

(Date de commande : 18/01/2018)

5

Acheteur vérifié .

Publié le 12/01/2018 à 08:41.

(Date de commande : 02/01/2018)

j'ai bien reçu la bague mais il y avait du noir à l'intérieur de la bague dû à la gravure j'estime au prix que l'on achète il ne doit pas avoir ce genre de petit hic !

Réponse du marchant

Bonjour, l'intérieur des gravures est noirci sur la plupart de nos bagues afin de faire ressortir les détails. Celles-ci sont ensuite repolies puis avivées puis finalement lavées à l'ultra-son.Contactez-nous par mail à contact@flibustierparis.com et envoyez-nous des photos. Cdlt,

3

Acheteur vérifié .

Publié le 03/01/2018 à 14:36.

(Date de commande : 26/12/2017)

Bel objet de bonne qualité super design

4

Acheteur vérifié .

Publié le 01/12/2017 à 15:05.

(Date de commande : 05/11/2017)

4

Acheteur vérifié .

Publié le 12/08/2017 à 15:08.

(Date de commande : 28/07/2017)

Tout bonnement exceptionnel. Les finitions sont parfaites, la tête hamelette est magnifique. Très beau bijou Flibustiers comme à chaque fois.

5

Acheteur vérifié .

Publié le 09/06/2017 à 14:26.

(Date de commande : 29/04/2017)

Impeccable Belle finition

5

Acheteur vérifié .

Publié le 11/03/2017 à 16:20.

(Date de commande : 13/02/2017)

5

Acheteur vérifié .

Publié le 11/03/2017 à 13:53.

(Date de commande : 03/03/2017)

5

Acheteur vérifié .

Publié le 01/03/2017 à 09:42.

(Date de commande : 17/02/2017)

Très beau produit, une étoile en moins pour le prix tout de même.

4

Acheteur vérifié .

Publié le 08/02/2017 à 15:53.

(Date de commande : 31/01/2017)

Quelle gueule cette bague ! je l'adore... Bon, je me suis trompé de taille en la commandant mais le contact pour le retour est plus que rapide donc pas de soucis à ce niveau là.

5

Acheteur vérifié .

Publié le 27/01/2017 à 14:40.

(Date de commande : 18/01/2017)

La bague est superbe...juste son coffret un peu "cheap"... ce n'est qu'un coffret, mais ça manque de classe au vue de l'univers que vous proposez. Mais sinon la bague est magnifique.

4

Acheteur vérifié .

Publié le 23/01/2017 à 14:59.

(Date de commande : 16/01/2017)

Très belle bague même si on ne se rend pas compte de la taille sur le site

5

Acheteur vérifié .

Publié le 14/12/2016 à 18:10.

(Date de commande : 06/12/2016)

Produits de super qualité

5

Acheteur vérifié .

Publié le 03/12/2016 à 15:01.

(Date de commande : 22/11/2016)

5

Acheteur vérifié .

Publié le 02/11/2016 à 12:41.

(Date de commande : 27/10/2016)

J'ai fais une demande direct, il n'y avait plus ma taille affichée sur le site. J'ai reçu ma bague dans la semaine.

5

Acheteur vérifié .

Publié le 05/08/2016 à 16:17.

(Date de commande : 01/08/2016)

5

Acheteur vérifié .

Publié le 10/06/2016 à 13:34.

(Date de commande : 21/03/2016)

Très belle bague, un bijou de qualité qui correspond à mes attentes en termes de design et de robustesse.

5

Acheteur vérifié .

Publié le 15/04/2016 à 15:45.

(Date de commande : 12/04/2016)

5

Acheteur vérifié .

Publié le 30/01/2016 à 14:50.

(Date de commande : 23/01/2016)

5

Acheteur vérifié .

Publié le 03/11/2015 à 13:22.

(Date de commande : 13/10/2015)

Très bonne qualité et finition

5

Acheteur vérifié .

Publié le 10/10/2015 à 13:14.

(Date de commande : 29/09/2015)

5

Acheteur vérifié .

Publié le 24/09/2015 à 21:07.

(Date de commande : 18/09/2015)

bague assez imposante, travail remarquable !

5

Acheteur vérifié .

Publié le 28/08/2015 à 14:37.

(Date de commande : 29/05/2015)

5