Sterling Silver Pendant - Bonny's Rose
---
Important Disclaimer for Bespoke Orders with Custom Sizes
Each bespoke order with a custom size is meticulously handcrafted to meet your specific requirements. Due to the personalized nature of these unique pieces, production may take between 3 to 6 weeks. We appreciate your patience and understanding as we work to ensure that your custom piece meets our high standards of quality and craftsmanship. Thank you for choosing a tailor-made experience with us.
Estimated delivery date, from Sun, 17 Dec 2023
In stock, ready to ship

Inventory on the way
| | |
| --- | --- |
| Couleurs | Silver |
| Hauteur | 3cm |
| Largeur | 2.5cm |
| Metal | Antique 925 silver |
| Origine | France |
| Poids | 9.6g |
| Profondeur | 0.8cm |
Our tribute to one of the most famous pirates had to be added to our pendant collection. It's done, and you can now wear Bonny's Rose around your neck!
Hand-patinated 925 silver pendant made in France.
Three sizes of chains available, wear it as a sautoir or close to the neck. Chain sold separately (photo model: Curb).
Sterling Silver Pendant - Bonny's Rose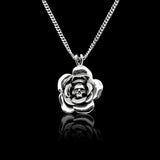 Avis à propos du produit
Voir l'attestation
Ulrich M.

Publié le 22/08/2022 à 14:51.

(Date de commande : 15/08/2022)

Une finition magnifique Le détail de la tête de mort est très soigné.

5

Sylvie H.

Publié le 11/07/2022 à 01:54.

(Date de commande : 03/07/2022)

Magnifique et bien présenté

5

Isabelle M.

Publié le 24/05/2022 à 22:32.

(Date de commande : 09/05/2022)

5

Jennifer F.

Publié le 15/05/2022 à 19:45.

(Date de commande : 08/05/2022)

Il est magnifique, fait beaucoup d'effet

5

Acheteur vérifié .

Publié le 06/02/2022 à 13:54.

(Date de commande : 29/01/2022)

Conforme à la description, emballage ok.

4

Acheteur vérifié .

Publié le 03/01/2022 à 11:09.

(Date de commande : 19/12/2021)

5

Acheteur vérifié .

Publié le 27/09/2021 à 13:41.

(Date de commande : 19/09/2021)

5

Acheteur vérifié .

Publié le 17/06/2021 à 18:54.

(Date de commande : 06/06/2021)

De l'Art à porté de cou ! Madame Bonny doit être fier de vous.

5

Acheteur vérifié .

Publié le 15/12/2020 à 17:16.

(Date de commande : 07/12/2020)

Ayant déjà acheté la rose de Bonnie en bague , cette année j'achète à ma femme le collier qui va avec

5

Acheteur vérifié .

Publié le 20/07/2020 à 22:35.

(Date de commande : 17/07/2020)

5

Acheteur vérifié .

Publié le 05/06/2020 à 11:30.

(Date de commande : 27/05/2020)

5

Acheteur vérifié .

Publié le 14/01/2020 à 21:49.

(Date de commande : 04/01/2020)

5

Acheteur vérifié .

Publié le 22/12/2019 à 18:42.

(Date de commande : 22/09/2019)

5

Acheteur vérifié .

Publié le 16/12/2019 à 09:52.

(Date de commande : 02/12/2019)

Excellente finition du pendentif et j'avoue avoir également été bluffé par la finition de la chaine TOP!

5

Acheteur vérifié .

Publié le 25/11/2019 à 20:18.

(Date de commande : 19/11/2019)

Comme toujours j'adore les produits de chez flibustiers la rose est magnifique

5

Acheteur vérifié .

Publié le 24/06/2019 à 14:21.

(Date de commande : 15/06/2019)

5

Acheteur vérifié .

Publié le 02/07/2018 à 20:28.

(Date de commande : 28/06/2018)

Très joli et correspond au visuel du site

5

Acheteur vérifié .

Publié le 18/12/2017 à 20:36.

(Date de commande : 07/12/2017)

5

Acheteur vérifié .

Publié le 17/12/2016 à 08:11.

(Date de commande : 30/11/2016)

C'est pour offrir à Noël, donc j'attends la réaction de l'intéressée, mais je crois qu'elle va adorer !!!

5

Acheteur vérifié .

Publié le 29/02/2016 à 13:59.

(Date de commande : 15/02/2016)

5

Acheteur vérifié .

Publié le 12/02/2016 à 13:22.

(Date de commande : 06/02/2016)

Madame l'aura demain... Moi je le trouve magnifique en attendant...

5

Acheteur vérifié .

Publié le 30/01/2016 à 22:19.

(Date de commande : 25/01/2016)

5

Acheteur vérifié .

Publié le 24/09/2015 à 10:56.

(Date de commande : 03/09/2015)

Vraiment très satisfaite du collier et pense repasser commande bientôt.

5