Ring Sizer
---
Important Disclaimer for Bespoke Orders with Custom Sizes
Each bespoke order with a custom size is meticulously handcrafted to meet your specific requirements. Due to the personalized nature of these unique pieces, production may take between 3 to 6 weeks. We appreciate your patience and understanding as we work to ensure that your custom piece meets our high standards of quality and craftsmanship. Thank you for choosing a tailor-made experience with us.
Estimated delivery date, from Sun, 17 Dec 2023
In stock, ready to ship

Inventory on the way
Easily measure your finger size with this ring sizing gauge.
Easily find your finger size
Our ring sizer uses American sizes and half size, we also provide a sheet to find their equivalent European sizes.
Buying a ring online can be a daunting task, especially if you are unsure of your finger size. Even if you know your ring size, how will you know for sure if a ring will fit you perfectly without trying it on first?
Our recommendation
This ring sizer is incredibly intuitive to use. We recommend that you find a size that is not too tight and that fits comfortably on your finger. You don't want the ring sizer to be too loose but to fit comfortably through your knuckle.
Instructions
To get your size, form a circle passing the end through the hole.
Place the ring sizer over the finger you wish to measure and tighten it by pulling on the end until you find a comfortable size that fits you.
Make sure that the ring sizer can be put on and taken off comfortably but with a little resistance.
The ring sizer measures in half sizes up to 17. (It can get a little confusing after size 10. If you are not sure about your size, send us a picture of the sizer on your finger)
We also recommend that you confirm your ring sizer with a jeweler.
If you have any questions or have trouble finding the right size, don't hesitate to contact us at contact@flibustierparis.com
Ring Sizer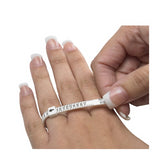 Avis à propos du produit
Voir l'attestation
PATRICE E.

Publié le 17/12/2022 à 05:59.

(Date de commande : 26/11/2022)

5

Acheteur vérifié .

Publié le 10/01/2021 à 22:09.

(Date de commande : 31/12/2020)

Merci et à bientôt pour une commande

5

Acheteur vérifié .

Publié le 17/09/2020 à 21:55.

(Date de commande : 02/09/2020)

5

Acheteur vérifié .

Publié le 16/09/2020 à 14:36.

(Date de commande : 04/09/2020)

5

Acheteur vérifié .

Publié le 09/09/2020 à 18:49.

(Date de commande : 02/09/2020)

4

Acheteur vérifié .

Publié le 01/09/2020 à 02:23.

(Date de commande : 22/08/2020)

5

Acheteur vérifié .

Publié le 22/06/2020 à 00:17.

(Date de commande : 30/05/2020)

fonctionne très bien, simple, précis

5

Acheteur vérifié .

Publié le 23/03/2020 à 10:38.

(Date de commande : 18/03/2020)

5

Acheteur vérifié .

Publié le 01/03/2020 à 05:27.

(Date de commande : 13/02/2020)

5

Acheteur vérifié .

Publié le 08/12/2019 à 18:06.

(Date de commande : 06/12/2019)

5

Acheteur vérifié .

Publié le 22/11/2019 à 18:12.

(Date de commande : 18/11/2019)

5

Acheteur vérifié .

Publié le 07/10/2019 à 07:38.

(Date de commande : 01/10/2019)

5

Acheteur vérifié .

Publié le 15/08/2019 à 20:25.

(Date de commande : 08/08/2019)

5

Acheteur vérifié .

Publié le 14/02/2019 à 06:49.

(Date de commande : 31/01/2019)

5

Acheteur vérifié .

Publié le 26/01/2019 à 21:33.

(Date de commande : 24/01/2019)

5

Acheteur vérifié .

Publié le 27/09/2018 à 15:16.

(Date de commande : 22/09/2018)

3

Acheteur vérifié .

Publié le 17/09/2018 à 15:17.

(Date de commande : 07/09/2018)

5

Acheteur vérifié .

Publié le 02/06/2018 à 14:33.

(Date de commande : 29/05/2018)

Utilisation ultra simple :)

5

Acheteur vérifié .

Publié le 26/04/2018 à 14:51.

(Date de commande : 23/04/2018)

5

Acheteur vérifié .

Publié le 19/04/2018 à 19:31.

(Date de commande : 15/04/2018)

Produit introuvable au point relais !

Réponse du marchant

Bonjour, comme indiqué sur la fiche produit les baguiers sont envoyés en enveloppe classique via La Poste. Vous devriez le recevoir chez vous prochaienment.

1

Acheteur vérifié .

Publié le 04/04/2018 à 10:21.

(Date de commande : 26/03/2018)

5

Acheteur vérifié .

Publié le 14/02/2018 à 13:15.

(Date de commande : 26/01/2018)

Super utile afin d'éviter toute erreur de commande

5

Acheteur vérifié .

Publié le 28/01/2018 à 22:49.

(Date de commande : 21/01/2018)

5

Acheteur vérifié .

Publié le 25/01/2018 à 17:44.

(Date de commande : 22/01/2018)

5

Acheteur vérifié .

Publié le 23/01/2018 à 14:06.

(Date de commande : 16/01/2018)

5

Acheteur vérifié .

Publié le 20/01/2018 à 09:58.

(Date de commande : 28/12/2017)

pas forcement très simple (il ne faut pas serrer !)

4

Acheteur vérifié .

Publié le 18/12/2017 à 14:10.

(Date de commande : 08/12/2017)

4

Acheteur vérifié .

Publié le 08/10/2017 à 19:04.

(Date de commande : 05/10/2017)

5

Acheteur vérifié .

Publié le 21/09/2017 à 21:10.

(Date de commande : 17/09/2017)

4

Acheteur vérifié .

Publié le 03/07/2017 à 12:02.

(Date de commande : 18/06/2017)

bien conforme à mes attentes

5

Acheteur vérifié .

Publié le 08/06/2017 à 15:07.

(Date de commande : 18/05/2017)

5

Acheteur vérifié .

Publié le 10/03/2017 à 13:59.

(Date de commande : 06/03/2017)

5

Acheteur vérifié .

Publié le 01/03/2017 à 11:33.

(Date de commande : 21/02/2017)

produit conforme à ce que j'espérais, merci

5

Acheteur vérifié .

Publié le 25/02/2017 à 08:43.

(Date de commande : 17/02/2017)

utile pour mes prochain achats

5

Acheteur vérifié .

Publié le 23/02/2017 à 23:04.

(Date de commande : 21/02/2017)

5

Acheteur vérifié .

Publié le 17/02/2017 à 23:06.

(Date de commande : 11/02/2017)

5

Acheteur vérifié .

Publié le 11/02/2017 à 18:47.

(Date de commande : 18/01/2017)

5

Acheteur vérifié .

Publié le 30/12/2016 à 14:32.

(Date de commande : 29/12/2016)

correspondant au descriptif

5

Acheteur vérifié .

Publié le 28/12/2016 à 17:13.

(Date de commande : 24/12/2016)

5

Acheteur vérifié .

Publié le 28/12/2016 à 15:30.

(Date de commande : 25/12/2016)

5

Acheteur vérifié .

Publié le 25/12/2016 à 18:18.

(Date de commande : 17/12/2016)

5