Hellfest H antique Sterling silver ring
---
Estimated delivery date, from Fri, 29 Sep 2023
Low stock - 1 item left

Inventory on the way
| | |
| --- | --- |
| Couleurs | Money |
| Metal | Antique 925 silver |
| Origine | France |
| Poids argent théorique | de 1,95g (T47) à 5,79g (T69) |
We've associated with world famous French alternative and metal music festival Hellfest to come up with two rings. This one is our interpretation of their famous H logo. Entirely made in France from Sterling Silver, we've decided to give it a vintage look with our antique finish. 
Antique Sterling Silver ring.
Custom Size - You can order a custom size for this ring. Please allow a 3-4 weeks delay before delivery.
1 YEAR GUARANTEE
Hellfest H antique Sterling silver ring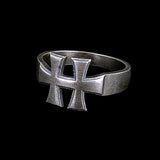 Avis à propos du produit
Voir l'attestation
Martine L.

Publié le 15/07/2023 à 01:12.

(Date de commande : 10/07/2023)

Très belle bague discrète en plus

5

Franck A.

Publié le 24/04/2023 à 13:41.

(Date de commande : 18/04/2023)

5

Hervé G.

Publié le 12/11/2022 à 13:32.

(Date de commande : 25/10/2022)

Produit livré de belle facture. Malheureusement, pas à la bonne taille, la procédure pour mesurer sans baguier n'étant pas exacte... En revanche, professionnalisme de l'interlocuteur dans le cadre du retour. Donc, satisfait de mon expérience de manière générale. J'attends maintenant la bague finale, correspondant à mon tour de doigt mesuré avec le baguier reçu.

5

Olivier G.

Publié le 07/09/2022 à 19:16.

(Date de commande : 10/08/2022)

La bague n'a aucune tenue. Elle se déforme.

Réponse du marchant

Bonjour, vous êtes le premier à nous rapporter ce problème sur ce modèle mais l'argent 925 est un métal qui reste tendre et qui est sensible aux déformations. Pour les bagues cela signifie qu'il faut faire attention à ne pas taper les mains sur une table/comptoir trop souvent. Malheureusement il n'y a pas grand chose qui puisse être fait pour éviter celà à part faire attention. Ceci étant dit la bague peut facilement être redressée chez un bijoutier ou chez nous si vous passez à la boutique.

1

Olivier B.

Publié le 26/07/2022 à 13:39.

(Date de commande : 09/06/2022)

Bijoux de qualité Magnifique

5

Marc P.

Publié le 12/07/2022 à 20:08.

(Date de commande : 05/07/2022)

Magnifique. La taille choisie est parfaite. Je l'adore.

5

Bruno M.

Publié le 26/05/2022 à 13:56.

(Date de commande : 18/05/2022)

5

Acheteur vérifié .

Publié le 02/11/2021 à 16:52.

(Date de commande : 02/10/2021)

5

Acheteur vérifié .

Publié le 20/07/2021 à 14:03.

(Date de commande : 11/07/2021)

je l'imaginais plus volumineuse mais non c'est parfait, elle à l'air de bonne qualité à voir dans le temps. très satisfaite +++

5

Acheteur vérifié .

Publié le 28/01/2020 à 09:15.

(Date de commande : 22/01/2020)

5

Acheteur vérifié .

Publié le 13/01/2020 à 16:47.

(Date de commande : 08/01/2020)

Magnifique et agréable à porter; Quel dommage qu'elle n'existe plus qu'en petites tailles !

5

Acheteur vérifié .

Publié le 12/11/2019 à 14:05.

(Date de commande : 24/10/2019)

Tres joli produit de qualité

5

Acheteur vérifié .

Publié le 17/09/2019 à 15:45.

(Date de commande : 08/09/2019)

Conforme à la description. Envoi très rapide.

5

Acheteur vérifié .

Publié le 07/09/2019 à 17:38.

(Date de commande : 30/08/2019)

4

Acheteur vérifié .

Publié le 14/08/2019 à 19:47.

(Date de commande : 07/08/2019)

Belle bague, Très bonne qualité, Livré dans les temps, Impeccable

5

Acheteur vérifié .

Publié le 27/06/2019 à 17:03.

(Date de commande : 27/05/2019)

Beau design, belle patine. Par contre si comme moi vous êtes un grand consommateur de gel hydroalcoolique, attendez vous à voir l'aspect vieilli disparaître assez vite ...

5

Acheteur vérifié .

Publié le 27/05/2019 à 23:31.

(Date de commande : 22/05/2019)

Satisfait de mon achat parfait, merci à vous.

5

Acheteur vérifié .

Publié le 11/05/2019 à 18:28.

(Date de commande : 02/05/2019)

Très déçu par la qualité et le rendu du produit. La bague restera dans son étui.

Réponse du marchant

Bonjour, nous sommes étonnés de votre réaction concernant cette bague qui est un produit pour lequel nous n'avons eu que des retours positifs jusque là. Si toutefois vous n'êtes pas satisfaits vous pouvez nous la renvoyer pour un échange ou un remboursement. N'hésitez pas à prendre contact avec notre service client: contact@flibustierparis.com ou au 01 78 76 64 50.

1

Acheteur vérifié .

Publié le 17/02/2019 à 03:23.

(Date de commande : 11/02/2019)

Produit de belle qualité et livraison très rapide ! Vraiment ravi ! Pour les amateurs du Hellfest : à acheter les yeux fermés !

5

Acheteur vérifié .

Publié le 13/01/2019 à 21:43.

(Date de commande : 01/01/2019)

Cette bague a été choisie pour notre mariage au Hellfest 2018 et retirée sur place. Puis je l'ai perdue dans les transports publics et malgré mes efforts pour la retrouver je me suis effondrée de tristesse.... mais mon homme vous a contactés et j'ai eu la belle surprise en ouvrant le paquet à peine deux semaines après l'avoir perdue Je vous remercie du fond du cœur de m'avoir envoyé aussi rapidement ce bijou que j'adore...

5

Acheteur vérifié .

Publié le 30/06/2018 à 11:52.

(Date de commande : 06/06/2018)

5

Acheteur vérifié .

Publié le 12/06/2018 à 16:38.

(Date de commande : 05/06/2018)

5

Acheteur vérifié .

Publié le 08/06/2018 à 19:48.

(Date de commande : 30/05/2018)

<Joli mais tourne un peu trop sur le doigt.

4