Ad Petram - Sterling Silver Ring with skulls
---
Estimated delivery date, from Wed, 04 Oct 2023
Low stock - 1 item left

Inventory on the way
| | |
| --- | --- |
| Couleurs | Money |
| Metal | Antique 925 silver |
| Origine | France |
| Poids argent théorique | 12,5g (T58) |
The story of what's after life is as old as language. Some believe our spirits wander in the ethereal realm until it is decided if they go to heaven or hell. Other will argue that it is reincarnated over and over again in various shapes and forms. What is certain is that our time is counted and our bodies will return "to the stone" to their mineral form. Life is short make the best of it...
Handmade Sterling Silver ring with stone texture and skulls
Custom Size - You can order a custom size for this ring. Please allow a 3-4 weeks delay before delivery.
1 YEAR GUARANTEE
Ad Petram - Sterling Silver Ring with skulls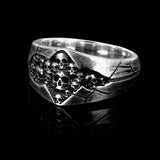 Avis à propos du produit
Voir l'attestation
Denis D.

Publié le 12/02/2023 à 20:09.

(Date de commande : 30/01/2023)

très jolie bague conforme à mes attentes, je recommande

5

Acheteur vérifié .

Publié le 13/11/2021 à 20:56.

(Date de commande : 04/11/2021)

5

Acheteur vérifié .

Publié le 22/06/2021 à 18:53.

(Date de commande : 17/06/2021)

Design magnifique taille parfaitement, 3 ème bague acheté et toujours satisfait.

5

Acheteur vérifié .

Publié le 30/05/2021 à 22:46.

(Date de commande : 23/05/2021)

Une merveille, les détails sont sublimes. En 68, un poil plus grande que mes autres bagues en même taille.

5

Acheteur vérifié .

Publié le 24/03/2021 à 21:25.

(Date de commande : 17/03/2021)

5

Acheteur vérifié .

Publié le 09/03/2021 à 13:51.

(Date de commande : 01/03/2021)

5

Acheteur vérifié .

Publié le 02/02/2021 à 05:28.

(Date de commande : 22/01/2021)

5

Acheteur vérifié .

Publié le 16/11/2020 à 12:35.

(Date de commande : 07/11/2020)

5

Acheteur vérifié .

Publié le 13/09/2020 à 19:52.

(Date de commande : 07/09/2020)

À réception, bijou moins massif que sur le rendu photo du site. Mais très satisfait, très belle bague agréable à porter. Finesse des détails.

5

Acheteur vérifié .

Publié le 12/09/2020 à 13:00.

(Date de commande : 26/08/2020)

5

Acheteur vérifié .

Publié le 18/05/2020 à 17:47.

(Date de commande : 09/05/2020)

Superbe bague et la réalisation est au top, merci à vous.

5

Acheteur vérifié .

Publié le 18/05/2020 à 16:10.

(Date de commande : 06/05/2020)

Design et précision toujours au rendez vous !

5

Acheteur vérifié .

Publié le 04/05/2020 à 11:51.

(Date de commande : 22/04/2020)

Good design, beatifull ring, very nice.

5

Acheteur vérifié .

Publié le 02/05/2020 à 18:06.

(Date de commande : 22/04/2020)

Jolie bague mais un peu chère

4

Acheteur vérifié .

Publié le 26/04/2020 à 18:01.

(Date de commande : 15/04/2020)

Bijou au top, les détails sont impressionant!

5