Royal Corsar - Sterling Silver Stackable Ring
---
Estimated delivery date, from Fri, 29 Sep 2023
Low stock - 2 items left

Inventory on the way
| | |
| --- | --- |
| Couleurs | Money |
| Metal | 925 silver |
| Origine | France |
| Poids argent théorique | De 1,37g (T48) à 4,03g (T67) |
The design of this ring reminded us of a crown that's teh reason why we've decided to name it Corsar. Corsars were pirates working for their king or queen by taking "courses" authorizing them to legally plunder enemy ships. With its angular shape this ring can be stacked for a nice effect on the finger.
Sterling Silver ring
Custom Size - You can order a custom size for this ring. Please allow a 3-4 weeks delay before delivery.
1 YEAR GUARANTEE
Royal Corsar - Sterling Silver Stackable Ring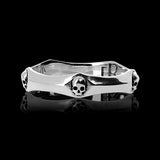 Avis à propos du produit
Voir l'attestation
Franck A.

Publié le 10/05/2023 à 11:21.

(Date de commande : 28/04/2023)

Très belle bague! Un petit cadeaux pour ma femme!

5

Franck A.

Publié le 24/04/2023 à 13:41.

(Date de commande : 18/04/2023)

5

CYRIL M.

Publié le 21/12/2022 à 21:09.

(Date de commande : 13/12/2022)

Beau produit à mixer avec d'autres

5

Marielle C.

Publié le 06/12/2022 à 18:55.

(Date de commande : 26/11/2022)

Bague trop étroite, on pensait qu'elle était plus large, du coup les têtes de mort sont visuellement inexistantes, il faut une loupe pour voir que c est des têtes de mort !!! Dommage !!! Du coup je trouve l article cher !!!

Réponse du marchant

Bonjour, nus avons récemment modifier ce modèle afin d'améliorer le rendu des têtes de mort. Vous avez du recevoir une de nos anciennes bagues. En revanche la largeur ne change pas. C'est une bague fine que l'on peut associer avec d'autres bagues. Vous pouvez faire l'échange pour un nouveau modèle ou nous la renvoyer pour un remboursement.

2

Isabelle D.

Publié le 13/06/2022 à 18:02.

(Date de commande : 06/06/2022)

Superbe et conforme à l'attendu

5

Acheteur vérifié .

Publié le 24/01/2022 à 13:42.

(Date de commande : 17/01/2022)

Bague très jolie mais au vu du prix je m attendais à de l argent qui ne fasse pas verdir le doigt de mon mari j ai retourné l article et attend le remboursement car déçu du produit.

Réponse du marchant

Bonjour, Les traces noires/vertes sur le doigt sont dues à un phénomène naturel qui peut avoir plusieurs raisons. En aucun cas cela n'indique un quelconque défaut ou un argent de "mauvaise qualité". - Une des raisons peut être une réaction de certains types de peau avec le métal. L'argent réagit avec le pH de votre peau. Ce n'est en aucun cas une réaction allergique ou le signe d'un défaut du bijou. - Une autre raison peut être la présence de cuivre en surface de la bague. L'argent 925 est un alliage composé à 925 millièmes d'argent pur et 75 millièmes d'autres métaux dont essentiellement du cuivre. Lors de la fonte ou de la création de la bague ce cuivre peut remonter en surface et réagir avec la peau. Par expérience, le plus simple est de porter la bague et les traces disparaitront au bout de quelques jours quand la fine couche de cuivre ce sera usée. Nous pouvons également re-polir l'intérieur de la bague si vous nous la renvoyez. Nous vous conseillons pour éviter des frais de porter la bague deux trois jours et si les marques ne disparaissent pas de nous la renvoyer pour un polissage.

1

Acheteur vérifié .

Publié le 29/12/2020 à 21:30.

(Date de commande : 10/12/2020)

C'est une bague très fine mais qui correspond totalement à nos attentes, qualitative comme tous vos bijoux!

5

Acheteur vérifié .

Publié le 28/12/2020 à 16:54.

(Date de commande : 19/12/2020)

Très jolie bague Mais Trop fine et les détails beaucoup trop petit

Réponse du marchant

Bonjour, cette bague a été créée pour être discrète. De plus, plus la taille de la bague est petite plus les détails vont proportionnellement être petits. Vous pouvez néanmoins échanger la bague ou demander un remboursement si elle ne vous convient pas.

3

Acheteur vérifié .

Publié le 16/11/2020 à 18:17.

(Date de commande : 10/11/2020)

5

Acheteur vérifié .

Publié le 18/09/2020 à 09:43.

(Date de commande : 05/09/2020)

Très bien, conforme à mes attentes.

5

Acheteur vérifié .

Publié le 15/09/2020 à 18:06.

(Date de commande : 05/09/2020)

Malgré une petite mésaventure le service après-vente ainsi que le service clientèle sont irréprochable encore merci

5

Acheteur vérifié .

Publié le 14/09/2020 à 20:41.

(Date de commande : 05/09/2020)

5

Acheteur vérifié .

Publié le 02/06/2020 à 13:35.

(Date de commande : 26/05/2020)

la bague est un peu fine, par rapport à ce que l'on peut en voir sur le site, mais les dimensions sont notées de toute façon. Plus joli si si l'on en met deux ou trois ensemble

4

Acheteur vérifié .

Publié le 27/04/2020 à 18:22.

(Date de commande : 20/04/2020)

5

Acheteur vérifié .

Publié le 24/04/2020 à 20:18.

(Date de commande : 11/04/2020)

Correspond parfaitement à mes attentes

5

Acheteur vérifié .

Publié le 01/02/2020 à 08:12.

(Date de commande : 24/01/2020)

5

Acheteur vérifié .

Publié le 26/01/2020 à 21:30.

(Date de commande : 01/12/2019)

Trop fine pour le prix

Réponse du marchant

Bonjour, cette bague est un modèle que nous avons voulu fin afin de pouvoir en empiler plusieurs ou avec d'autres modèles de notre gamme. N'hésitez pas à faire votre demande de retour si vous préférez l'échanger ou être remboursée. Cordialement,

2

Acheteur vérifié .

Publié le 28/10/2019 à 20:26.

(Date de commande : 22/10/2019)

très jolie bague, conforme à la description - je recommande

5

Acheteur vérifié .

Publié le 10/09/2019 à 10:41.

(Date de commande : 04/09/2019)

5