Viking Sterling Silver Signet Ring - Fenrisúlfr Wolf - Official Assassin's Creed Valhalla x Flibustier Paris jewelry
---
Estimated delivery date, from Fri, 29 Sep 2023
In stock, ready to ship

Inventory on the way
| | |
| --- | --- |
| Couleurs | Money |
| Metal | Antique 925 silver |
| Origine | France |
| Poids argent théorique | environ 18,6 g en fonction de la taille |
Limited edition of 99 copies
The Fenrisúlfr signet ring is part of the Assassin's Creed Valhalla collection. Fenrisúlfr is a gigantic wolf son of Loki and brother of Jörmungandr. Ring made of 925 silver in France in a limited edition and numbered 99 pieces. Each piece is delivered in its numbered box with its certificate of authenticity.
"If I'm missing a hand,
Hródvitnir is missing to you;
Woe dreads us both.
The wolf didn't look good either
Who in the chains must
Wait for the twilight of the gods. " Týr
Officially licensed jewel for Assassin's Creed Valhalla©
Limited and numbered edition
Only 99 pieces, highly collectible item
Sterling Silver signet ring with antique finish
Custom Size - You can order a custom size for this ring. Please allow a 3-4 weeks delay before delivery.
1 YEAR GUARANTEE
Viking Sterling Silver Signet Ring - Fenrisúlfr Wolf - Official Assassin's Creed Valhalla x Flibustier Paris jewelry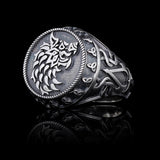 Avis à propos du produit
Voir l'attestation
Acheteur vérifié .

Publié le 21/12/2020 à 17:01.

(Date de commande : 16/12/2020)

Super chevalière les logos assassin sont suffisamment discret pour ne pas tomber dans le fan service ^^ je recommande !

5

Acheteur vérifié .

Publié le 14/12/2020 à 20:11.

(Date de commande : 08/12/2020)

Parfaite! J'espère qu'elle va lui plaire....

5

Acheteur vérifié .

Publié le 13/12/2020 à 07:23.

(Date de commande : 27/11/2020)

Produit sympas en photos, mes alors l'avoir en main ces juste magnifique, le soin du détail et la ! Merci pour ce travail remarquable. et a bientôt.

5

Acheteur vérifié .

Publié le 12/12/2020 à 10:08.

(Date de commande : 18/11/2020)

Taille parfaite, conforme à la commande, motif incroyablement détaillé et précis. Je suis certaine de faire un heureux à Noël !

5

Acheteur vérifié .

Publié le 30/11/2020 à 18:29.

(Date de commande : 23/11/2020)

J'en suis extrêmement content

5