Hellfest 2023 limited edition bracelet - IRON
---
Size chart
Si vous habitez en région parisienne, sachez que vous pouvez venir au flagship Flibustier Paris pour demander gratuitement une mesure de votre tour de doigt. L'équipe sera ravie de vous accompagner et de vous conseiller au mieux.
Sinon, la solution la plus simple pour mesurer précisément la taille de votre doigt tranquillement à la maison est de commander un de nos baguiers ici.
Pour prendre vos mesures avec le baguier, il vous suffit de le placer sur votre doigt puis de le resserrer. Une fois en place vous devez pouvoir le mettre et l'enlever comme vous le feriez avec une bague normale.
Envoi gratuit vers la France, la Belgique et le Luxembourg.
Estimated delivery date, from Tue, 03 Oct 2023
Low stock - 1 item left

Inventory on the way
| | |
| --- | --- |
| Couleurs | Noir, Bleu, Gris, Bleu, Argent, Bleu, Gris, Bleu |
| Diamètre des pierres | 10mm |
| Metal | Argent 925 |
| Origine | France |
| Pierres | Onyx, Oeil d'aigle, Hotaru |
| Poids argent théorique | 27,62g |
ATTENTION pre-orders!
Delivery expected from JUNE 2023 or on site at the Festival
HOW TO ORDER?
You can choose at the time of the order to be delivered at home or to collect the jewel on the festival as every year (no delivery fees).
HOW DO I PICK UP MY JEWEL AT HELLFEST?
You will have to come to our booth at the entrance of the Extreme Market with your proof of purchase and an ID (a copy or picture on your phone work fine). If you are picking up the jewelry for someone else, we will need their proof of purchase and a copy of their ID as well.
I AM NOT GOING TO HELLFEST HOW DO I GET THIS LIMITED EDITION?
In the event that you can't make it to Hellfest you can pre-order with normal shipping to get the best deal. Please note that the jewelry will only be shipped after the festival. You can also send someone you trust to pick up the jewelry for you if you want to have it before.
I DON'T WANT TO MAKE A PRE-ORDER, CAN I ORDER MY JEWEL AFTER THE FESTIVAL?
You will also have the possibility to order it after the festival. However, you will only be able to order from the remaining stock, so all sizes might not be available. Moreover, the discount price is reserved for pre-orders.
HOW MANY COPIES OF THIS EDITION ARE THERE?
We can't know in advance how many pieces will be produced. It will depend on the number of pre-orders. This edition is limited in the sense that once the stock after the festival is over the ring will no longer be edited. In any case once all the copies are sold there will be no more possibility to obtain this jewel. As an example, in previous years, this represented editions of 150-200 pieces per jewel.
CAN I HAVE MY HELLFEST LIMITED EDITION JEWEL PERSONALIZED?
To a certain extent yes, we can laser engrave certain parts of the jewelry if you wish to personalize it or we can modify some aspects of each piece. Feel free to email us at custom@flibustierparis.com to see what can be done and get a quote.
I REMOVE MY JEWELRY ON THE SPOT, IS IT POSSIBLE TO CHANGE IN CASE OF ERROR OF SIZE?
To answer quickly: YES. However, we advise you to take your time to evaluate your size. For the ring, you can order one of our rings or go to a jeweler to measure your finger. For the bracelet, simply measure your wrist with a tape measure.
If you realize that you have made a mistake when ordering, we will be able to make an exchange on available stocks on site. Remember to come by at the beginning of the festival for better odds.
Hellfest 2023 limited edition bracelet - IRON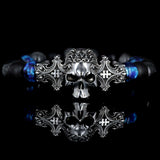 Avis à propos du produit
Voir l'attestation
Orphe J.

Publié le 22/09/2023 à 07:21.

(Date de commande : 11/09/2023)

5