Hellfest 15th Anniversary Limited Edition University Ring
---
Estimated delivery date, from Thu, 28 Sep 2023
In stock, ready to ship

Inventory on the way
| | |
| --- | --- |
| Metal | 925 silver |
| Origine | France |
| Poids argent théorique | env 20g |
Official Hellfest jewel in 925 silver.
To celebrate this historic edition of Hellfest, we wanted a ring that would mark the event. Inspired by the US university ring and featuring some strong symbols of Hellfest such as the guillotine of the warzone and the tree of Hellcity, this commemorative ring features the words 'University of Mayhem' around the legendary logo. Made in our workshop in France.
XXX The following information is no longer current please disregard XXX
HOW TO ORDER?
This limited edition is reserved in priority for people who have their ticket for one of the Hellfest 2022 events. The jewel must be picked up ON SITE at Hellfest and all unrecovered orders will be canceled and refunded.
HOW TO COLLECT MY JEWEL AT HELLFEST?
You will have to come to our booth at the entrance of the Extreme Market with your proof of purchase and an identity document. If you collect the jewel for someone, we will therefore need their proof of purchase and a copy of their identity document.
I'M NOT GOING TO HELLFEST HOW DO I GET THIS LIMITED EDITION?
In the event that you cannot make it to Hellfest you can send a trusted person to collect the jewel for you. This is the safest way to be sure you get this piece of jewelry.
You will also have the possibility to order it after the festival. Indeed, the unrecovered jewelry and the remaining stock will be on sale for ALL after the festival (July 2022). Thy will be in very limited quantities remember to act quickly.
HOW MANY COPIES IS THIS LIMITED EDITION?
We cannot know in advance how many jewels will be edited. It will depend on the number of pre-orders. This edition is limited insofar as the conditions for obtaining the jewelry are strict. In any case, once all the copies have been sold, there will be no more possibility of obtaining this jewel from us. As an example in previous years, this represented editions of 150-200 pieces per jewel. This year with the historic character of this edition of Hellfest (15th anniversary) it could be more.
CAN I CUSTOMIZE MY HELLFEST LIMITED EDITION JEWELERY?
To a certain extent yes, we can have some parts of the jewelry laser engraved if you want to personalize it. Do not hesitate to contact us by email at custom@flibustierparis.com to see what can be done and get a quote.
IS IT POSSIBLE TO CHANGE IN CASE OF A SIZE ERROR?
To answer quickly: YES. However, we advise you to take your time to properly assess your size. For the ring, you can order one of our ring sizers or go to a jeweler to measure your finger. For the bracelet, just measure your wrist with a tape measure.
If ever, once there, you realize that you made a mistake when placing your order, we will be able to exchange your jewel on the available stocks.
WHAT IF I CHANGE MY MIND?
We know that it is complicated to plan several months in advance and we believe that you have the right to change your mind. At any time until Hellfest if you change your mind we will refund your order without any questions.
Hellfest 15th Anniversary Limited Edition University Ring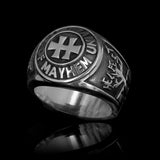 Avis à propos du produit
Voir l'attestation
Vincent A.

Publié le 09/02/2023 à 20:58.

(Date de commande : 30/01/2023)

Cette bague est fidèle à l 'esprit Hellfest!!! Et ellle tout simplement sublime! Je la porte avec une vraie fierté!!! Merci a tte la team Flibustier !!

5

Bruno M.

Publié le 25/09/2022 à 17:56.

(Date de commande : 19/09/2022)

Un produit exceptionnel d'excellente qualité Fait main Bravooooo

5

Sébastien F.

Publié le 23/09/2022 à 15:16.

(Date de commande : 12/09/2022)

Il restait 2 exemplaires dans cette taille, je suis ravi d'avoir pu en bénéficier !

4

Lionel D.

Publié le 31/07/2022 à 20:25.

(Date de commande : 23/07/2022)

Une bague de toute beautééééééé. Les reliefs sont très détaillés , sur fond gris foncé qui fait ressortir tout ça . Elle ne fait pas "mastoc" loin de là, juste ce qu'il faut pour la mettre en valeur . Certainement l'une des plus belles créations de la marque . C'est pas donné, mais vu le soucis du détail de cette pièce , pourquoi pas .

5

Jack S.

Publié le 17/07/2022 à 02:11.

(Date de commande : 01/03/2022)

4

Nathalie I.

Publié le 12/07/2022 à 21:00.

(Date de commande : 06/05/2022)

La bague Hellfest édition limitée est tout simplement MAGNIFIQUE !

5

Charles-eric S.

Publié le 11/07/2022 à 01:14.

(Date de commande : 15/03/2022)

Belle qualité, Très beau design, Pour cette XVème édition du Hellfest

5

Stéphane C.

Publié le 07/07/2022 à 10:40.

(Date de commande : 12/05/2022)

superbe, mais juste une remarque concernant la partie inferieure, interieur doigt ,elle aurait merité d etre plus epaisse..a l instar de l edition 2013. la mienne est deja tordue.

4

Guillaume A.

Publié le 06/07/2022 à 19:13.

(Date de commande : 25/04/2022)

5

Pascal H.

Publié le 06/07/2022 à 18:58.

(Date de commande : 14/04/2022)

5

Olivier B.

Publié le 06/07/2022 à 17:16.

(Date de commande : 02/03/2022)

Entièrement satisfait de ma commande chevalière magnifique

5

CELINE R.

Publié le 06/07/2022 à 16:58.

(Date de commande : 11/03/2022)

Produit de grande qualité

5

Dominique D.

Publié le 28/06/2022 à 12:10.

(Date de commande : 28/03/2022)

Très bel objet conforme en tous points à la page de mise en vente Réception très facile par personnel compétent et sympathique

5

Laurent T.

Publié le 22/06/2022 à 12:51.

(Date de commande : 16/02/2022)

La bague est superbe, le niveau de détail est remarquable.

5

Franck D.

Publié le 22/06/2022 à 11:36.

(Date de commande : 08/04/2022)

Très belle bague même si elle est un peu trop grosse à mon goût.

5